Sylvie's Authentic Italian Gnocchi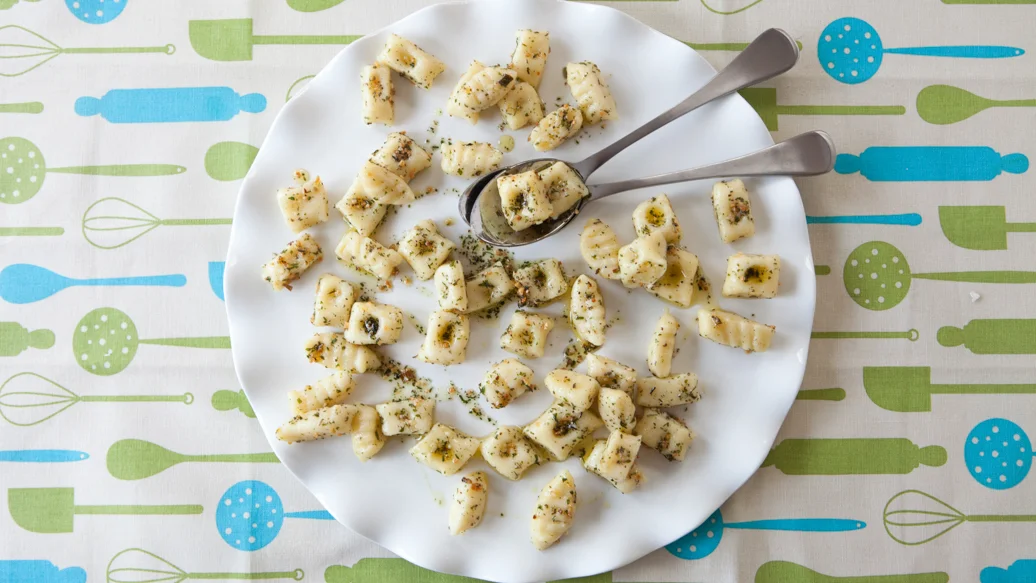 1 hour
10 - 12 servings
$0.50/serving
Ingredients
GNOCCHI
2 lbs (1 kg) potatoes, about 3 large, with skins on
Sea Salt, to taste
1 1⁄4 - 1 1⁄2 cups all-purpose flour
1 egg, lightly beaten
1⁄4 cup potato starch
SAUCE
1 cup olive oil
Grated parmesan, to taste, optional
Preparation
GNOCCHI
Place potatoes and Rosemary Garlic Seasoning in a pasta pot. Cover potatoes with water, then bring to a boil. Simmer until fork tender.
Drain potatoes. When cool enough to handle, peel potatoes, then chop into smaller pieces. Pass potatoes through a ricer or food mill (this will give the dough a smooth, uniform texture rather than just mashing). Taste and season with Sea Salt.
Place cool mashed potatoes onto a counter lightly dusted with flour. Form into a mound and create a hollow in the centre. Pour in egg. Using a fork, mix in.
Mix flour with potato starch. Add flour mixture, a little at a time to form a dough. At some point start to work the dough with your hands, kneading gently. Dough should feel elastic and moist, but not sticky.
Working with floured hands, place dough on a large cutting board dusted with more flour. Divide dough into small balls, then roll to form a rope about the width of your index finger. Slice into pieces (about 3⁄4–1-inch).
Using your finger, make indents in centre of each piece of dough to form a pillow (good for catching sauce). Or using the tines of a fork, roll dough pieces over tines to create ridges.
As gnocchi are made, place on Sheet Pan lined with Sheet Pan Liner or parchment paper. Freeze gnocchi in a single layer, then portion into a freezer bag for easier storage.
To cook, bring water or Broth to a boil in a pasta pot. Carefully drop in fresh or frozen gnocchi, a few at a time. As soon as they float on the surface, remove with a slotted spoon. Arrange in a warm serving dish and drizzle with your favourite sauce.
SAUCE
Whisk olive oil with Herb & Garlic Dip Mix. Warm in the microwave, then drizzle over gnocchi. Finish with grated parmesan cheese, if you wish.
Nutritional Information
Per serving: Calories 280, Fat 10 g (Saturated 1.5 g, Trans 0 g), Cholesterol 20 mg, Sodium 45 mg, Carbohydrate 43 g (Fibre 3 g, Sugars 1 g), Protein 6 g.
Tips
The secret to light and fluffy gnocchi is to use old potatoes – they have less moisture, which makes superior dough. Select starchy potatoes such as Russet, Yukon Gold, or Kennebec.
Go gluten-free! Prepare gnocchi dough using 100% potato starch instead of mixing it with all-purpose flour.