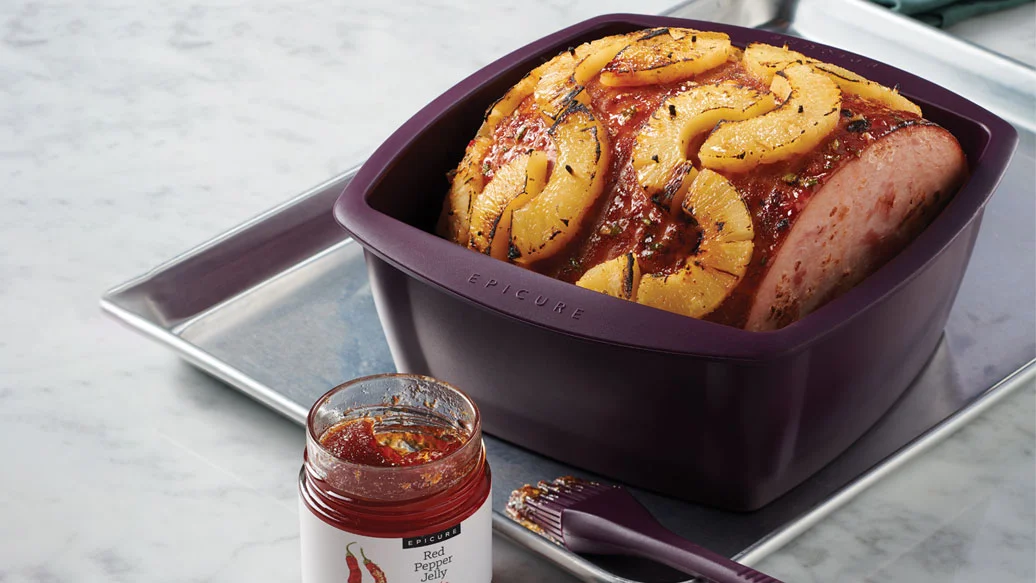 1 hr 15 min
15 servings
$1.42/serving
Move over turkey, ham is taking centre stage on your holiday dinner table this year. This glaze is a snap to make, no matter your skill level in the kitchen. We know cooking space is at a premium during feast prep, so free up precious oven room and use the microwave for the bulk of this recipe.
Ingredients
3.3 lb (1.5 kg) cooked, smoked, boneless ham
1 can (14-oz/398 ml) pineapple rings
2 tbsp Dijon mustard
Preparation
Using a knife, score ham by slicing shallow lines along the top and sides in a diamond pattern, about 1⁄2–1" deep. Place in Multipurpose Steamer, scored side facing down.
Open can of pineapple rings. Spoon out rings and set aside for later. Pour juice into steamer.  
Cover and microwave on medium (50%) 20–25 min, or until ham reaches an internal temperature of 140° F, turning over halfway through cooking.  
Meanwhile, in a bowl, stir jelly with mustard and dip mix; mixture will be lumpy. 
Preheat oven to 400° F.  
Once ham is warmed through, brush glaze on ham. Using toothpicks, arrange pineapple rings on ham.  
Place steamer on a Sheet Pan. Bake, uncovered, in centre of oven for 30 min, basting every 10 min.  Let stand 10 min; thinly slice.  
Nutritional Information
Per serving: Calories 190, Fat 8 g (Saturated 3.5 g, Trans 0 g), Cholesterol 55 mg, Sodium 1110 mg, Carbohydrate 0 g (Fibre 0 g, Sugars 12 g), Protein 15 g.
Tips
If you are using a larger or smaller ham, be sure to check that the internal temperature is reaching 140° F; adjust microwave cooking time if needed.