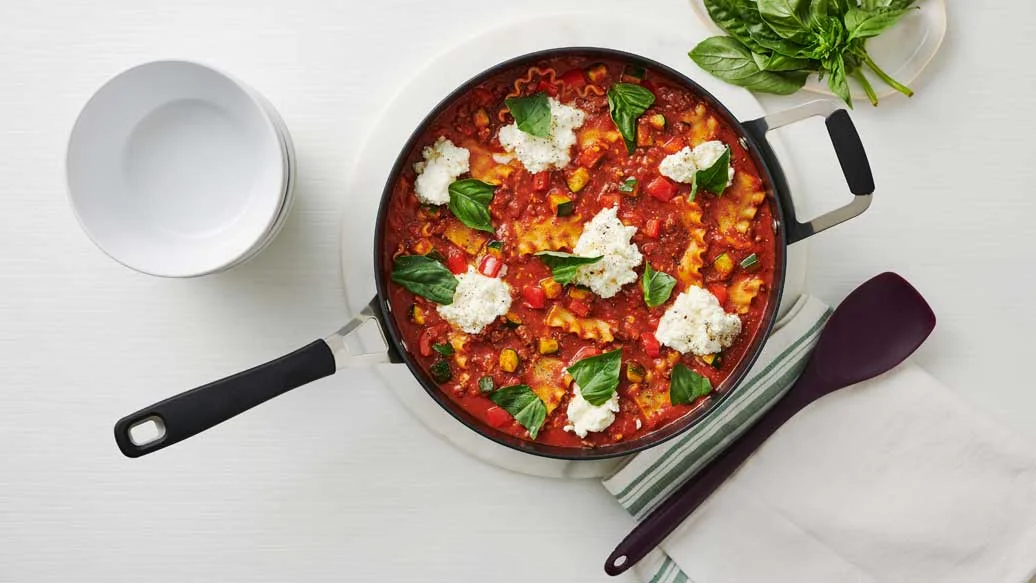 20 min
4 servings
$3.69/serving
Everything you love about lasagna, but faster, with less fuss, and no layering!
Perfectly Balance Your Plate
Serve with 2 cups leafy greens and a drizzle of balsamic vinegar.
Ingredients
1 lb (450 g) lean ground beef
1 bell pepper
1 medium zucchini
2 cups water or broth, your choice
1 can (14 oz/398 ml) crushed tomatoes
6 oven-ready lasagna noodles
1 cup shredded mozzarella cheese
Toppings (optional): dollops of ricotta cheese, fresh basil
Preparation
In Sauté Pan, brown beef over medium-high heat, 3–4 min, or until no longer pink. Use Ground Meat Separator to break up chunks.  
Meanwhile, dice pepper and zucchini. 
Add pepper, zucchini, seasoning, water or broth, and tomatoes to pan with beef. Stir to combine.
Coarsely break up each lasagna noodle into 3–4 pieces and add to pan. Stir to combine. Noodles should be mostly covered in liquid.
Simmer, partially covered, until noodles are tender, about 15 min. Stir occasionally while simmering.
Reduce heat to low and stir in cheese. Before serving, top with dollops of ricotta cheese and basil, if desired.  
Nutritional Information
Per serving: Calories 480, Fat 19 g (Saturated 9 g, Trans 0.4 g), Cholesterol 85 mg, Sodium 590 mg, Carbohydrate 42 g (Fibre 6 g, Sugars 8 g), Protein 36 g.
Tips
If you have time, let the dish rest a few minutes before serving. This will allow some of the moisture to redistribute and give you a thicker sauce.