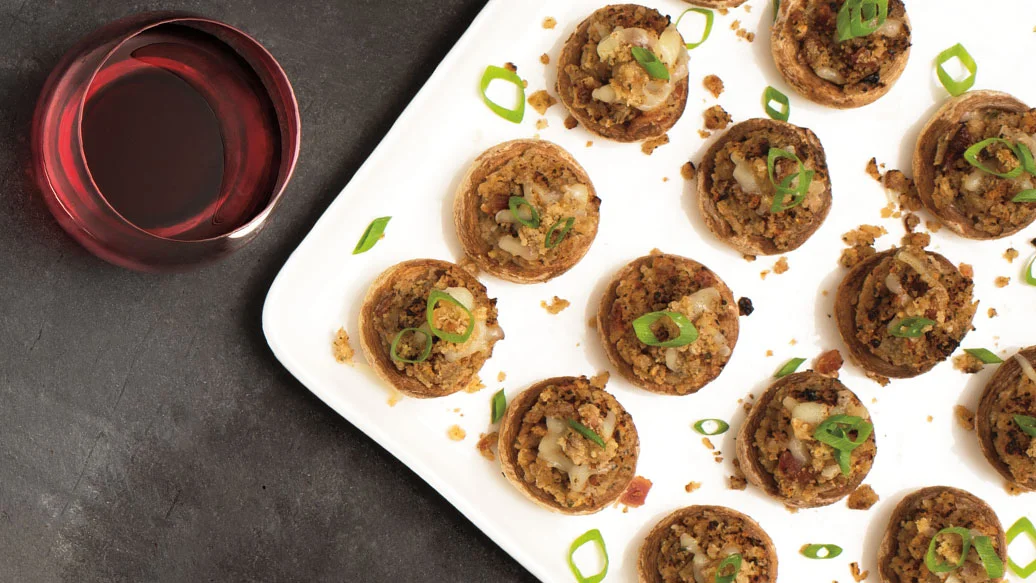 36 min
12 caps
$0.38/serving
A bite-sized burst of savoury goodness!
Ingredients
4 strips bacon
1⁄2 small onion, finely diced
12 white mushrooms, brushed, with stems removed and finely diced
1⁄2 cup finely ground breadcrumbs
1⁄3 cup spreadable cream cheese
Sea Salt, to taste
Black Pepper, to taste
Preparation
Preheat oven to 400° F. Line a Sheet Pan with a Sheet Pan Liner.
Sauté bacon in frying pan until crisp. Cool, then crumble. In the same pan, sauté onion and mushroom stems over medium heat until soft, 6-8 min.
Remove pan from heat and stir in bacon, breadcrumbs, cream cheese and dip mix. Stir well; season with salt and pepper.
Arrange mushroom caps on pan. Fill each with prepared mixture. Roast for 10 min, or until bubbling and browned. Serve warm.
Nutritional Information
Per serving (1 cap): Calories 45, Fat 3.5 g (Saturated 2 g, Trans 0 g), Cholesterol 10 mg, Sodium 150 mg, Carbohydrate 2 g (Fibre 0 g, Sugars 1 g), Protein 2 g.
Tips
Use mushrooms that are small enough to eat in one bite. 
Try using back bacon or turkey bacon and light cream cheese to lower fat content.