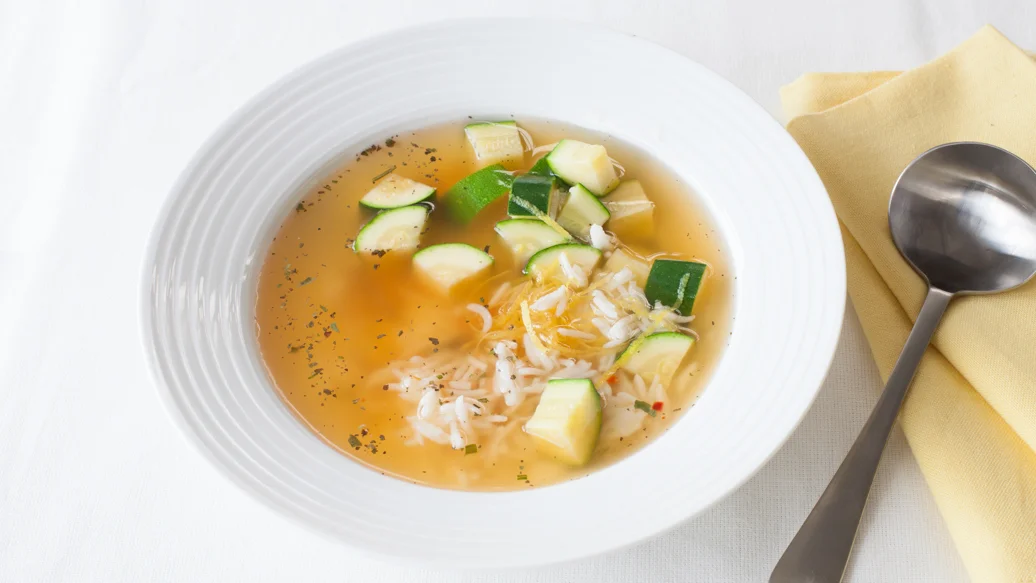 20 - 30 min
4 - 5 cups
$1.13/serving
Studded with a confetti of yellow zucchini and infused with lemon, this golden broth is pure sunshine.
Ingredients
1 lb (450 g) yellow or green zucchini, finely chopped
zest and juice of one lemon
2 tbsp olive oil
1 tbsp Turmeric & Ginger Blend Enhanced Herbal Tea
1⁄2 cup basmati rice
Sea Salt, to taste
Black Pepper, to taste
Preparation
In a Multipurpose Pot - 8 cup, heat oil over medium heat. Add zucchini, Toasted Onion, and lemon zest. Stir to coat, then cook, stirring occasionally, for approximately 5 minutes.
Stir in tea, broth and lemon juice, then add rice.
Simmer, uncovered, just until rice is tender, 10–20 minutes. Season to taste.
Nutritional Information
Per serving (1 cup): Calories 150, Fat 6 g (Saturated 1 g, Trans 0 g), Cholesterol 0 mg, Sodium 80 mg, Carbohydrate 24 g (Fibre 2 g, Sugars 0 g), Protein 4 g.
Tips
When in season, try any number of seasonal vegetables, like asparagus, spinach, bok choy, or swiss chard.