Slow Cooker Cuban Mojo Pork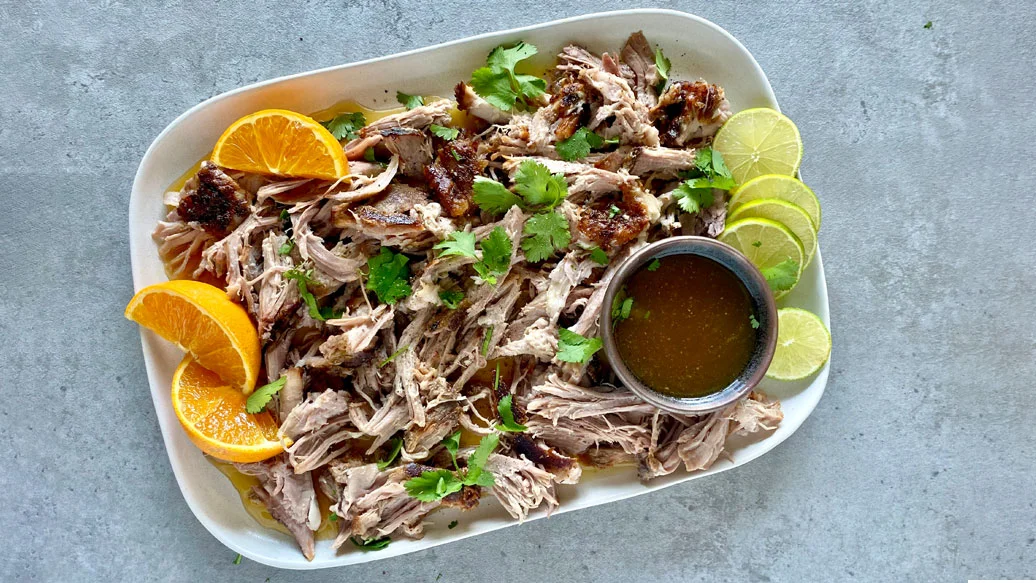 5 hours + 20 min
16 servings
$1.66/serving
Traditionally made from bitter oranges, garlic and olive oil, mojo is a bright and punchy Cuban sauce. Swapping in regular oranges and limes handily mimics that sour flavour. Slow cooking helps the meat fall apart, so it's easy to shred using two forks. Use for sandwiches, taco fillings, or dish up with rice and beans.
Perfectly Balance Your Plate
Serve with 1 cup rice and 1 cup grilled, roasted, or steamed veggies. This roast loves green beans!
Ingredients
4 lbs (1.8 kg) boneless pork shoulder or pork butt roast
1⁄2 tsp each sea salt and fresh ground black pepper
2 large oranges, divided
2 limes, divided
3 tbsp olive oil
Toppings (optional): Roasted Garlic Aioli, fresh cilantro, sliced avocado, lime wedges
Preparation
Using the tip of a knife, make a few slits over the top of the roast (fat cap). Season roast with marinade mix, salt, and pepper. Place fat-side up in a slow cooker.
Using a Y-peeler, peel strips from 1 orange and lime; add to slow cooker. Squeeze in 3⁄4 cup juice from oranges and 1⁄2 cup juice from limes. Drizzle with oil. 
Using your hands, turn roast a few times to coat.
Cover; cook on high for 5-6 hours or until fork tender.
To crisp top, carefully remove pork from slow cooker. Place on a Sheet Pan lined with a Sheet Pan Liner. Bake in preheated 400 °F until browned, 10-15 min.
 Let rest 10 min, then slice or shred meat. Serve with juices from the slow cooker and toppings, if desired.
Nutritional Information
Per serving: Calories 210, Fat 13 g (Saturated 4 g, Trans 0 g), Cholesterol 65 mg, Sodium 170 mg, Carbohydrate 3 g (Fibre 0 g, Sugars 1 g), Protein 19 g.
Tips
Italian Seasoning is a good swap. The flavour profile is slightly different – it's less citrussy – but there are added notes of basil and mint. Consider adding 2 tbsp more lime juice if using Italian Seasoning.
If you have extra time, marinate roast in the refrigerate up to 4 hours before cooking.
Wrap up leftovers in tacos or use as a pizza topping. Excellent tossed into Mac & Cheese or Fettucine Alfredo.