Sloppy Joe Zucchini Boats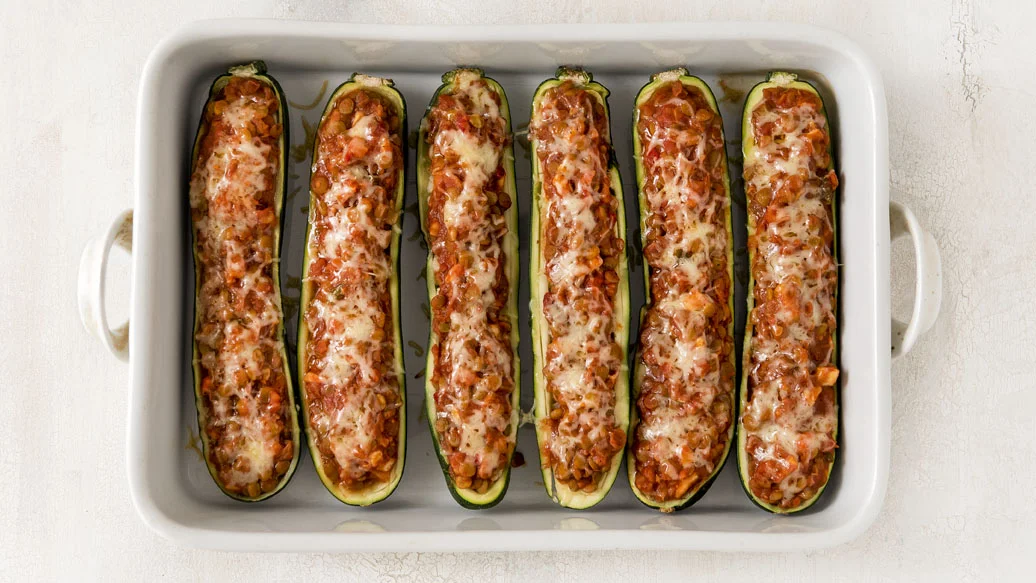 20 min
4 servings
$2.92/serving
Perfectly Balance Your Plate
Serve with 1⁄2 cup rice or corn.
Ingredients
4 medium zucchinis
1 can (19 oz/540 ml) lentils
1 pkg Sloppy Joe Seasoning
1 1⁄2 cups water
1 can (5.5. oz/156 ml) tomato paste
1⁄2 cup shredded cheese
1 avocado
Toppings (optional): green onions, sour cream, pickled jalapeños
Preparation
Preheat oven to 400° F. 
Slice each zucchini in half, lengthwise. Using the tip of a spoon, gently scrape out centres of zucchini halves, leaving 1⁄4" thick shell on each half. Chop zucchini centres; set aside. 
Place zucchini shells in Multipurpose Steamer (they will be stacked). Cover; microwave on high 4 min, or just until tender. Tuck zucchini halves in bottom of a large baking dish; it's OK if they touch.
Drain and rinse lentils. In Multipurpose Steamer (don't wash), combine lentils, chopped zucchini centres, seasoning, water, and tomato paste. Cover; microwave on high 3–5 min, until warmed through. 
Generously fill zucchini hollows with mixture; press in to pack down as best you can. Sprinkle cheese on top. 
Loosely cover dish with foil; roast until cheese melts, about 5–6 min.
Meanwhile, dice avocado. Top prepared boats with avocados and additional toppings, if desired. 
Nutritional Information
Per serving (2 boats): Calories 390, Fat 14 g (Saturated 4 g, Trans 0.1 g), Cholesterol 15 mg, Sodium 540 mg, Carbohydrate 52 g (Fibre 21 g, Sugars 6 g), Protein 22 g.
Tips
There's lots of filling to fill these zucchini boats—depending on the size of your zucchini, your filling might overflow out of the hollowed out centre and that's OK! Pile on the goodness!