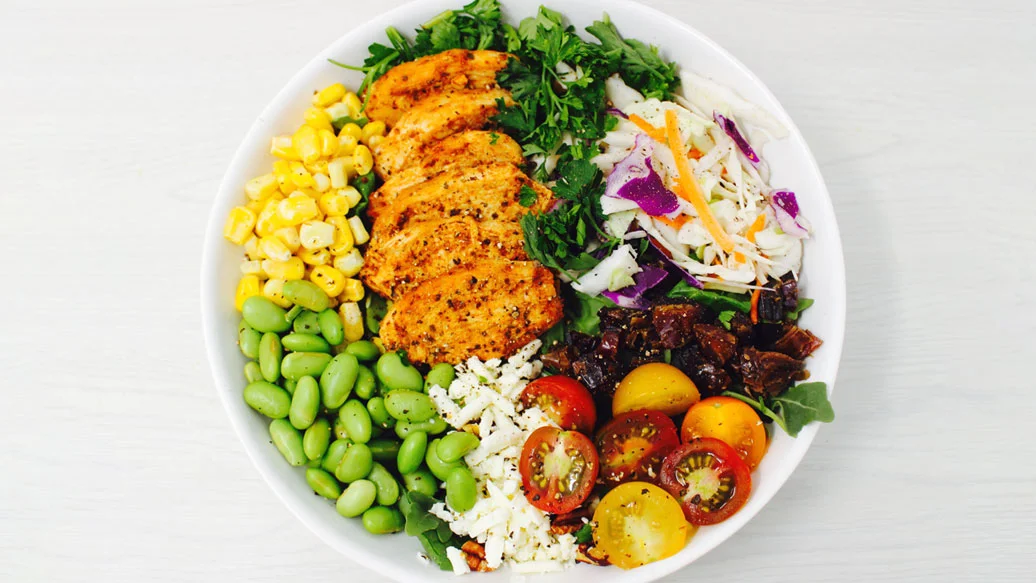 18–20 min
4 servings
$4.27/serving
Ingredients
Dressing
2 tbsp apple cider vinegar
1⁄3 cup olive oil
2 tbsp red wine vinegar
2 tbsp Dijon mustard
1 tbsp olive oil
2 boneless, skinless chicken breasts, sliced, or 2 blocks firm tofu
8 cups mixed greens
1 cup coleslaw mix
1 cup corn niblets
1 cup edamame beans
1⁄2 cup dates, pitted and chopped
1 cup grape tomatoes
1⁄4 cup chopped parsley
1⁄4 cup walnuts
1⁄2 cup feta cheese
Preparation
In a small bowl, combine dressing ingredients; set aside.
In a Fry Pan over medium-high heat, add oil and chicken or tofu; sprinkle with seasoning. Stir fry until cooked, approximately 8–10 min. Set aside.
Assemble salad by placing 2 cups of greens and 1⁄4 cup each of coleslaw, corn, and edamame in each of 4 bowls. Add dates and tomatoes, and sprinkle with parsley, walnuts, and feta cheese. Serve and enjoy.
Nutritional Information
Per serving: Calories 510, Fat 30 g (Saturated 6 g, Trans 0 g), Cholesterol 60 mg, Sodium 510 mg, Carbohydrate 38 g (Fibre 8 g, Sugars 18 g), Protein 25 g.
Tips
Hack: Assemble salad in meal prep containers and store dressing separately. Drizzle with dressing prior to serving. Can be stored in the fridge for up to 3 days.