Roasted Root Vegetables with Saffron Garlic Aioli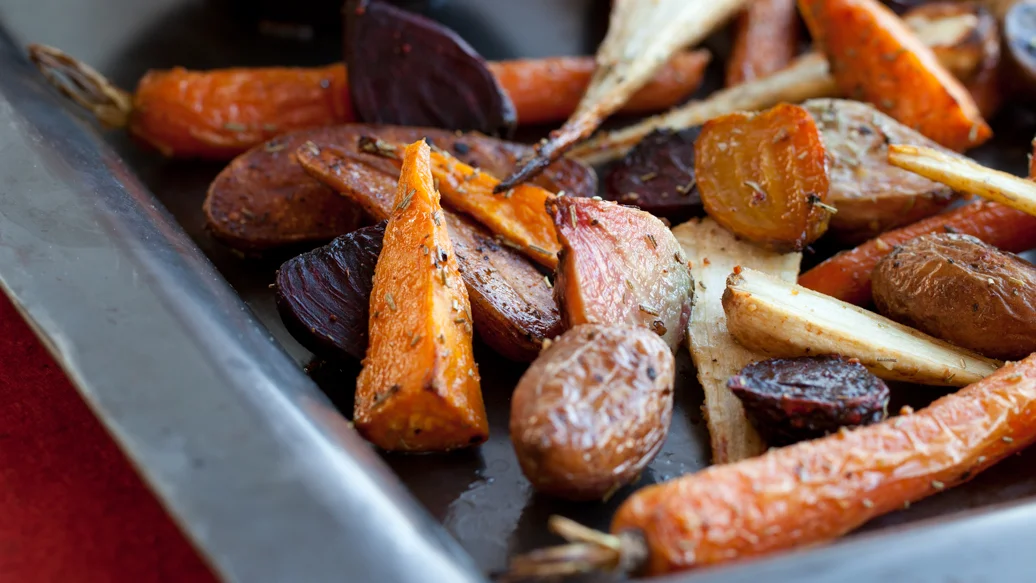 45 min
8 servings
$0.40/serving
Mix and match your favourite root vegetables. Serve with bamboo skewers for spearing and dipping in Saffron Garlic Aioli, or any prepared Epicure's Dip.
Ingredients
2 lbs (1 kg) assorted root vegetables, such as carrots, parsnips, beets and baby potatoes
3 tbsp olive oil
Sea Salt, coarsely ground, to taste
Black Pepper, coarsely ground, to taste
SAFFRON GARLIC AIOLI
1⁄4 tsp saffron
1 tbsp boiling water
1 garlic clove, crushed
1⁄2 cup light mayonnaise
Preparation
ROASTED ROOT VEGETABLES
Preheat oven to 425° F (220° C).
Place vegetables in frying pan. Add oil and Rosemary Garlic Seasoning, tossing to coat. Add Salt and Pepper.
Roast for 25 minutes, or until vegetables are golden and fork-tender.
While vegetables are roasting, steep saffron in boiling water for 5 minutes.
SAFFRON GARLIC AIOLI
Add garlic to mayonnaise. Stir in saffron and water. Season with Salt and Pepper.
Spoon aioli into a serving dish, cover and let stand for 30 minutes to allow flavour to develop.
Nutritional Information
Per serving: Calories 150, Fat 11 g (Saturated 1.5 g, Trans 0 g), Cholesterol 5 mg, Sodium 210 mg, Carbohydrate 14 g (Fibre 4 g, Sugars 6 g), Protein 1 g.