Roasted Kamouraska Lamb Brochettes and Curried Crème Fraîche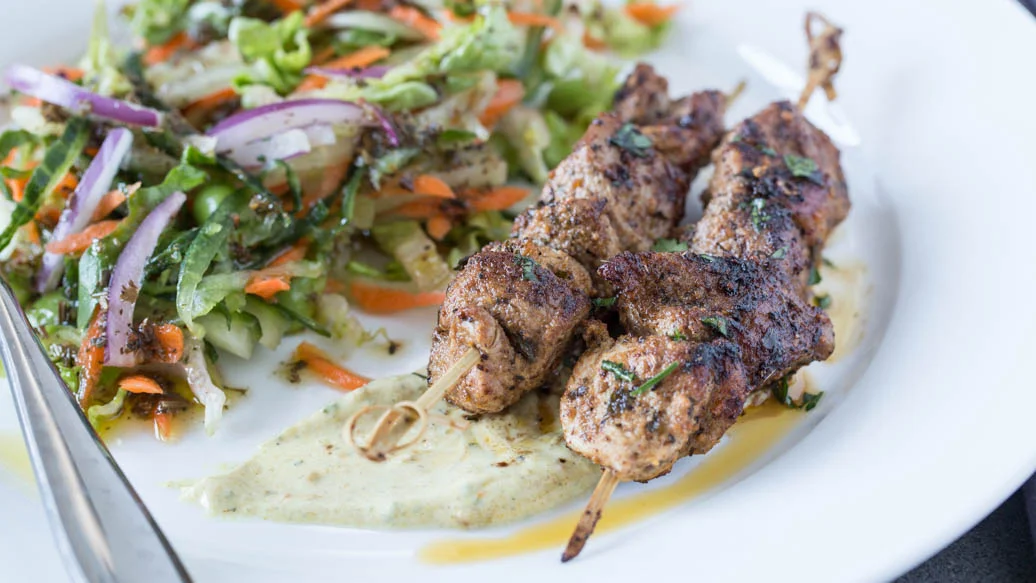 2 hr 15 min
24 Brochettes
$0.30/serving
The chefs at Ateliers et Saveurs in Montreal developed this recipe for Epicure's 2011 Wine & Dine celebration. Long name, deliciously easy recipe!
Ingredients
3 tbsp oil
1 tbsp Moroccan seasoning
1 tbsp Cheese & Jalapeño Dip Mix, or your choice
16 oz (450 g) lamb or pork shoulder, cut in cubes
24 bamboo skewers
1⁄4 cup sour cream or 2% Greek yogurt
zest of 1 lemon and its juice
1 tsp curry seasoning
Preparation
In a large bowl, combine first six ingredients and stir to combine. Add lamb cubes and mix well. Allow to marinate for 1–2 hours, or preferably overnight.
Preheat oven to 450° F (230° C).
Divide lamb onto bamboo skewers. Discard marinade.
Heat oil in a frying pan on medium. Add skewers and fry for 2 minutes on each side.
Place skewers on a Sheet Pan lined with a Sheet Pan Liner and place in oven for 5–7 minutes, or until desired doneness.
Meanwhile, in a Prep Bowl, combine sour cream, lemon zest and juice, and curry to make curried crème fraiche. Season to taste and stir to combine. Serve skewers with curried crème fraiche.
Nutritional Information
Per serving (4): Calories 180, Fat 11 g (Saturated 1.5 g, Trans 0 g), Cholesterol 50 mg, Sodium 95 mg, Carbohydrate 4 g (Fibre 1 g, Sugars 1 g), Protein 17 g.