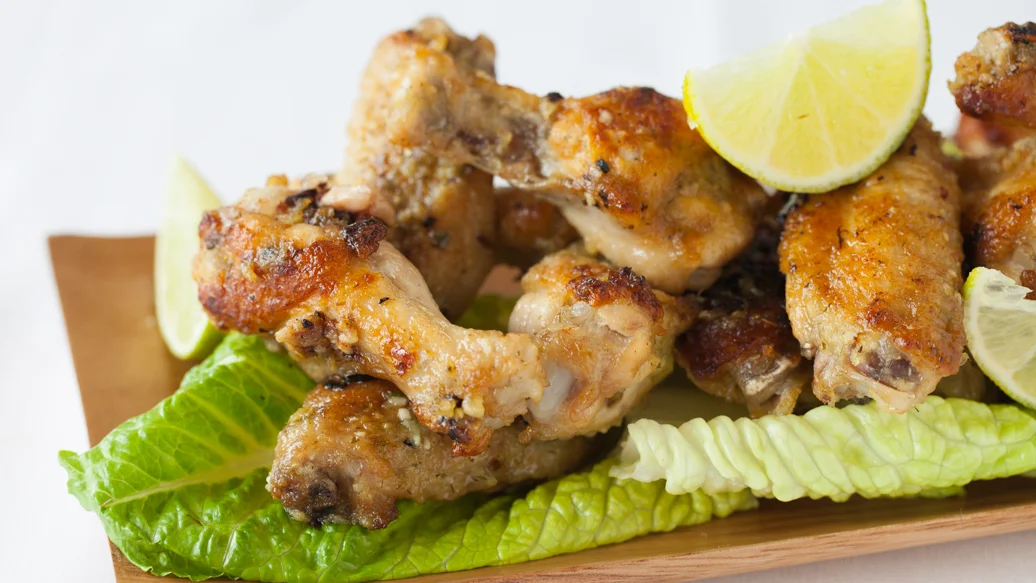 50 - 55 min
4 - 6 servings
$1.63/serving
Aromatic, creamy, and a little spicy, this is a new spin on classic roast chicken.
Perfectly Balance Your Plate
Serve with rice and fresh steamed broccoli. 
Ingredients
1 tbsp Turmeric & Ginger Blend Enhanced Herbal Tea
1 cup boiled hot water
1 can (14 oz/398 ml) unsweetened coconut milk
1 medium onion, chopped
2 jalapeños, stemmed – optional
2 tbsp fresh lime or lemon juice
1 tbsp fish sauce (such as nuoc nam or nam pla), optional
Sea Salt, to taste
Black Pepper, to taste
3 lbs (1.4 kg) whole chicken wings or combination of pieces
Preparation
Preheat oven to 375° F (190° C).
In a blender or food processor, combine all ingredients except chicken. Purée until a smooth marinade forms.
Place chicken in a large baking dish. Pour marinade overtop and turn chicken to coat evenly. Cover and roast, turning over and basting half way through, until fully cooked, 35–40 minutes.
Nutritional Information
Per serving: Calories 380, Fat 27 g (Saturated 11 g, Trans 0 g), Cholesterol 110 mg, Sodium 120 mg, Carbohydrate 5 g (Fibre 1 g, Sugars 1 g), Protein 28 g.