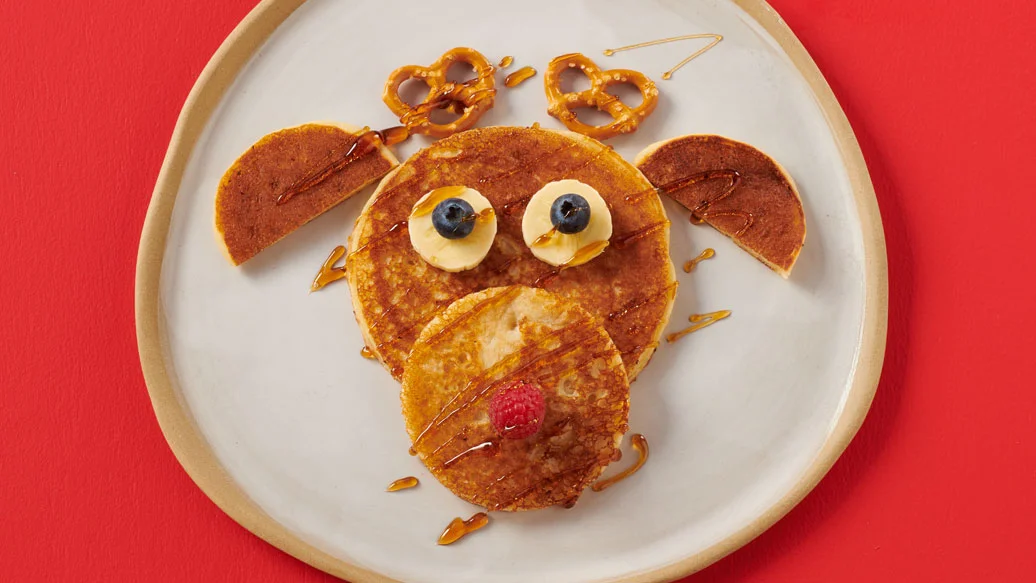 25 min
4 servings
$1.80/serving
Spread the holiday cheer with this fun, holiday breakfast! Fluffy, gluten-free pancakes bring the Christmas magic of Rudolph to your plate, right down to the raspberry red nose. Recruit your little sous chefs to help you assemble.
Perfectly Balance Your Plate
Serve with 1⁄2 cup plain 2% Greek yogurt and 1⁄2 cup berries. 
Ingredients
1 egg
1 cup milk, your choice
2 tbsp + 2 tsp oil, divided
2 tsp vanilla extract
1⁄2 banana
8 blueberries
8 mini unsalted pretzels
4 raspberries or small strawberries
Preparation
In a large bowl, whisk mix with egg, milk, 2 tbsp oil, and vanilla extract. Let batter rest 5 min; it will continue to thicken.  
Heat 1 tsp oil in Sauté Pan over medium heat. Using scant 1⁄4 cup as a guide, scoop 4 pancakes into pan, leaving space between them. Cook until bubbles appear on top of batter and underside is golden brown, about 3–5 min. Flip each pancake and cook until bottoms are golden brown, about 1–2 min.  
Heat remaining 1 tsp oil in pan. Using 2 tbsp as a guide, scoop 8 mini pancakes into pan. Cook until edges are firm, 3–5 min. Flip and cook until bottoms are deep golden, about 1–2 min. 
Place each large pancake onto a plate. Top each with one mini pancake to make a reindeer snout. Slice four of the mini pancakes in half and arrange on plates to make ears.
Slice banana into eight rounds. Place two rounds on each large pancake above the snout to make eyes and top each with a blueberry. Place two pretzels between the ears of each pancake to form antlers, and place raspberries on each snout for noses.  
Nutritional Information
Per serving (1 reindeer pancake): Calories 300, Fat 12 g (Saturated 2 g, Trans 0.1 g), Cholesterol 50 mg, Sodium 360 mg, Carbohydrate 41 g (Fibre 1 g, Sugars 10 g), Protein 6 g.