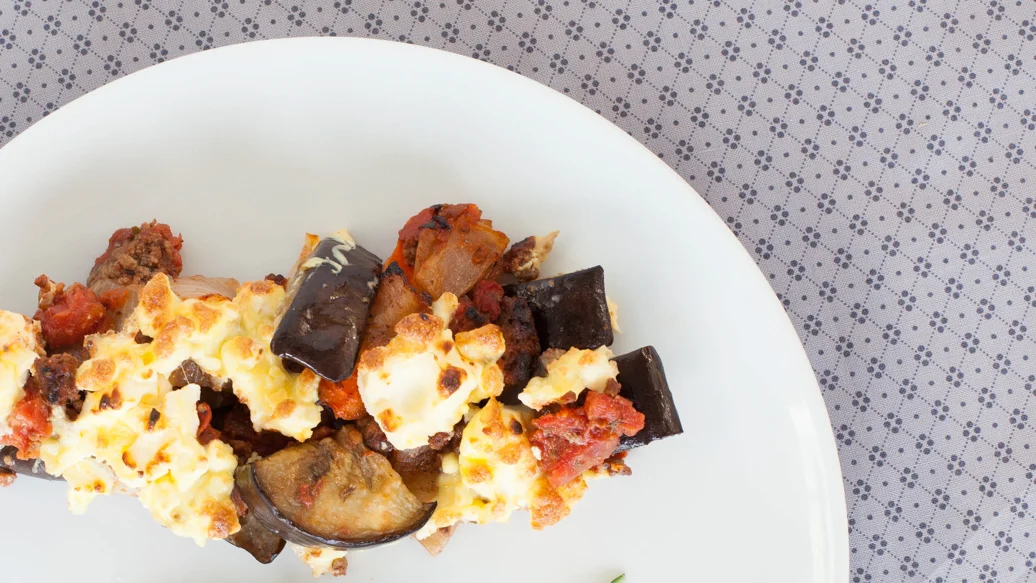 1 hr 20 min
4–6 servings
$3.10/serving
A super-quick take on the classic casserole that's easy to assemble and outshines the minimal effort! A favourite meal for entertaining, or ending your week on a unique Greek note.
Ingredients
2 1⁄2 lbs (1.1 kg) eggplant, cubed
6 tbsp olive oil, divided
1 tsp Herbed Garlic Sea Salt Blend, plus more to season
1 medium onion, chopped
2 cloves garlic, minced
2 medium carrots, chopped
1 lb (450 g) lean ground beef or lamb
1 can (28 oz/798 ml) diced tomatoes, drained
2 tsp tomato paste
1 tsp Souvlaki Seasoning
1 cup low-fat ricotta cheese
3⁄4 cup low-fat feta cheese, crumbled
1 large egg
Preparation
Preheat oven to 425° F (220° C).
Lightly oil a 9''x 13'' baking dish.
On a Sheet Pan, toss eggplant with 5 tbsp olive oil and Herbed Garlic Sea Salt. Spread in a single layer, and roast until soft and lightly browned in spots, approximately 20 minutes. Transfer to baking dish, arranging in an even layer.
Meanwhile, in frying pan, warm remaining 1 tbsp olive oil over medium heat. Add onion, garlic, carrots, and ground meat.
Stir in tomatoes, tomato paste, and Souvlaki Seasoning. Simmer for approximately 15 minutes. Spread mixture evenly over the eggplant.
In a small bowl, mix ricotta, feta, egg, Black Pepper, and additional Herbed Garlic Sea Salt, if you like. Pour mixture over casserole, spreading evenly to the edges.
Bake Moussaka until topping is browned in spots, approximately 5–10 minutes. Serve hot.
Nutritional Information
Per serving: Calories 400, Fat 21 g (Saturated 5 g, Trans 0.3 g), Cholesterol 100 mg, Sodium 680 mg, Carbohydrate 26 g (Fibre 8 g, Sugars 12 g), Protein 29 g.