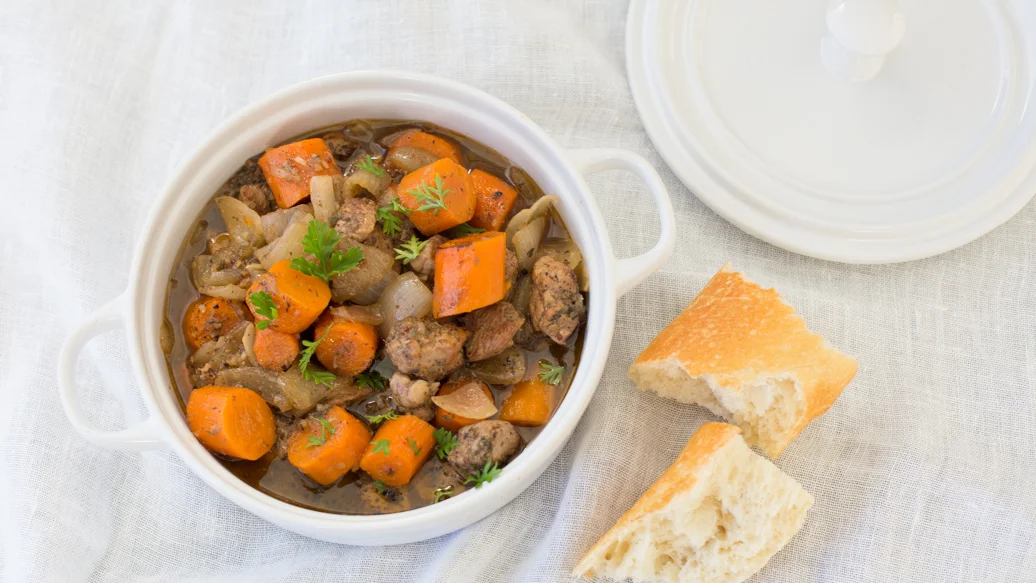 1 hr 20 min
8 servings
$1.80/serving
This method of slow-cooking is called "braising" and it's a great way of cooking with liquids to make tougher cuts of meat tasty and fork tender.
Ingredients
2 lbs (900 g) pork loin, cut into cubes
3 cups pumpkin ale
1 tbsp Sage & Apple Stuffing Seasoning
1 tbsp oil
6 carrots, cut into thick pieces
2 onions, cut into large chunks
Sea Salt, to taste
Black Pepper, to taste
Preparation
In a large bowl, combine pork, ale, and seasonings.
Heat oil in a large pot over medium-high heat. Remove pork from ale mixture and sear until brown on all sides.
Add ale mixture and vegetables to pot. Cover and simmer on low for 1–1 1⁄2 hours.
Season with Salt and Pepper to taste and serve.
Nutritional Information
Per serving: Calories 270, Fat 7 g (Saturated 2.5 g, Trans 0 g), Cholesterol 90 mg, Sodium 115 mg, Carbohydrate 11 g (Fibre 2 g, Sugars 4 g), Protein 33 g.