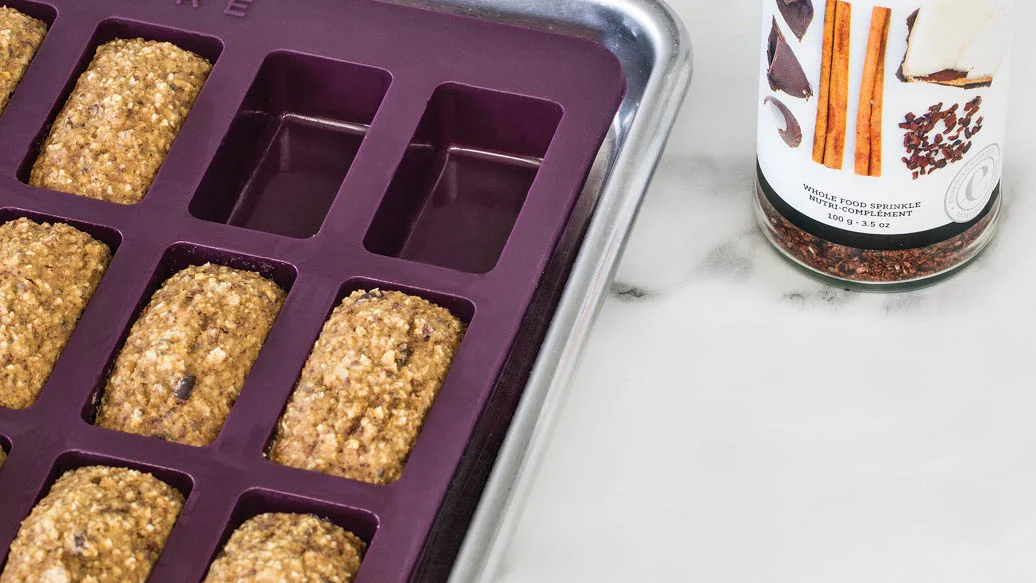 25 min
30 petites
$1.50/serving
Store-bought protein bars can be full of artificial ingredients and sugar. These healthier bites pack a big protein punch in a petite package.
Perfectly Balance Your Plate
Enjoy 3 petites with 1 cup 2% plain Greek yogurt and 2 cups berries, or 6 petites and 2 servings of fruit or a large banana.
Ingredients
2 cups quick oats or gluten-free oats
1 tsp baking powder
1 tsp baking soda
1⁄2 cup egg whites
3⁄4 cup unsweetened applesauce
1⁄2 cup 2% plain Greek yogurt
Preparation
Preheat oven to 350° F.
Place oats in a food processor and blend to the consistency of flour.
In a medium bowl, mix oat flour with remaining dry ingredients. 
Whisk egg whites with remaining wet ingredients. Fold wet and dry mixes together. 
Stir in whole food sprinkle.
Place a Perfect Petites mold on a Sheet Pan. Lightly brush with oil. 
Divide batter by heaping tablespoonful among petites and bake 12–15 minutes.  When cool to the touch, flip Perfect Petites mold onto Sheet Pan and twist to pop out petites. 
Nutritional Information
Per serving (3 petites): Calories 130, Fat 2.5 g (Saturated 0.5 g, Trans 0 g), Cholesterol 0 mg, Sodium 190 mg, Carbohydrate 18 g (Fibre 3 g, Sugars 4 g), Protein 11 g.
Tips
Try mixing in 1⁄2 cup chopped nuts, raisins, or shredded coconut for tasty variations.