Prosciutto-wrapped Asparagus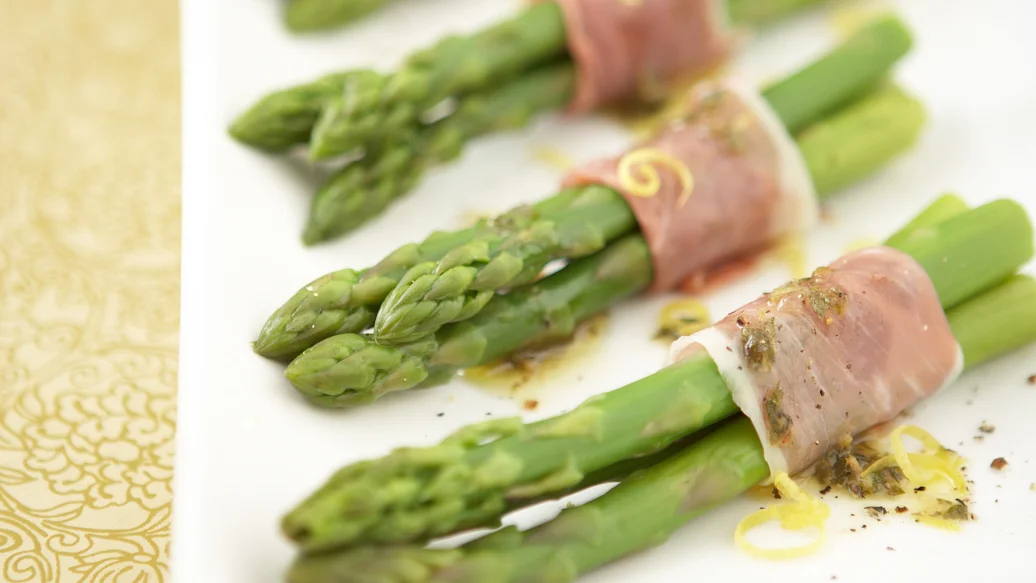 13 min
8 servings
$0.76/serving
An Italian favourite. As an alternative to asparagus, try it with fresh green beans.
Ingredients
24 asparagus spears
12 thin slices prosciutto, halved lengthwise
1 1⁄2 tbsp olive oil
1 tsp lemon juice
zest of 1 lemon
Sea Salt, to taste
Black Pepper, to taste
Preparation
Trim asparagus ends and peel lower third with a Y-Peeler.
Boil until tender-crisp. Drain, cool in a bowl of ice water for 2 minutes, drain again and pat dry with paper towel.
Wrap each spear with prosciutto and arrange lengthwise on a serving tray.
Combine oil, lemon juice, lemon zest and Lemon Dilly Dip Mix. Brush over asparagus with a basting brush.
Season with Salt and Pepper and serve.
Nutritional Information
Per serving: Calories 50, Fat 3 g (Saturated 0.5 g, Trans 0 g), Cholesterol 5 mg, Sodium 230 mg, Carbohydrate 3 g (Fibre 1 g, Sugars 1 g), Protein 3 g.