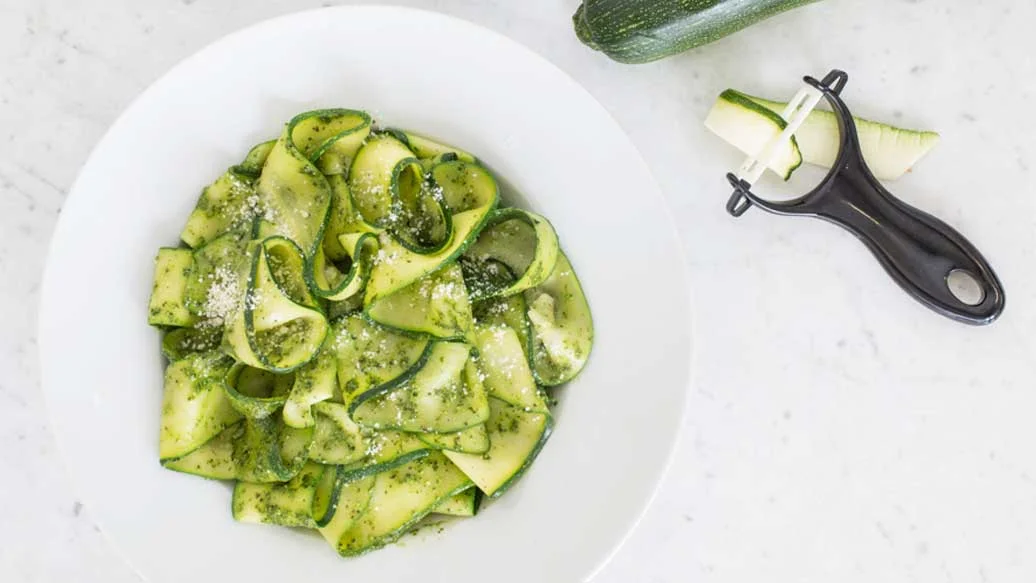 Sneak in more veggies with this perfectly sauced dish made in less than 15 min!
Perfectly Balance Your Plate
Serve with 2 cups mixed greens and 1 tbsp prepared Epicure Salad Dressing.
Ingredients
3 medium zucchini, peeled into ribbons
3 cups spinach
1 1⁄2 cups grated fresh mozzarella cheese
1 lemon, juiced
1⁄2 cup Parmesan cheese
Black Pepper, to taste
Preparation
Cook zucchini noodles in boiling water for 1 min. Drain well and place in a large bowl.
Toss with Dressing, spinach, and mozzarella. Add a lively splash of lemon, top with Parmesan, season to taste, and serve.
Nutritional Information
Per serving: Calories 350, Fat 24 g (Saturated 12 g, Trans 0 g), Cholesterol 55 mg, Sodium 250 mg, Carbohydrate 11 g (Fibre 3 g, Sugars 1 g), Protein 25 g.