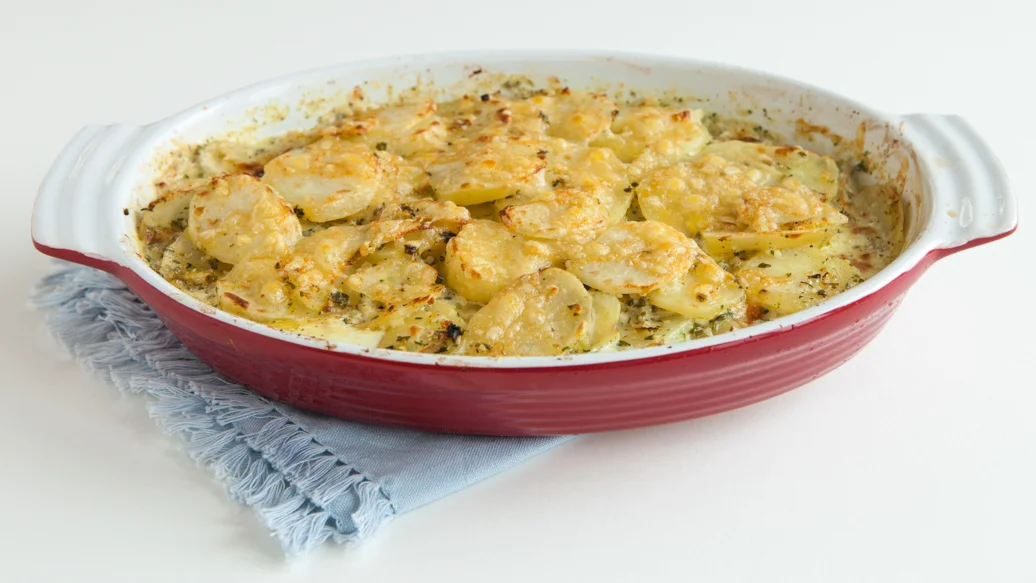 1 hr 15 min
8 servings
$0.80/serving
A gratin is traditionally baked in a shallow oval dish to best enjoy its characteristic golden crust. Savour this French classic at home as a comforting side dish.
Ingredients
2 lb (900 g) potatoes, peeled and thinly sliced
Sea Salt, to taste
Black Pepper, to taste
1 cup whipping cream
1 cup shredded low-fat Swiss or cheddar cheese
Preparation
Preheat oven to 350° F (175° C).
Layer potato slices in a lightly buttered oval Au gratin dish. Season with Salt and Pepper.
In a small bowl, combine Nourish Bouillon, whipping cream and 3 Onion Dip Mix. Pour over potatoes.
Cover with foil and bake for 40 minutes.
Remove foil, sprinkle with cheese and continue to bake, uncovered, for 20 minutes, or until potatoes are tender. Serve warm directly from the dish.
Nutritional Information
Per serving: Calories 240, Fat 11 g (Saturated 7 g, Trans 0 g), Cholesterol 40 mg, Sodium 135 mg, Carbohydrate 29 g (Fibre 3 g, Sugars 2 g), Protein 8 g.