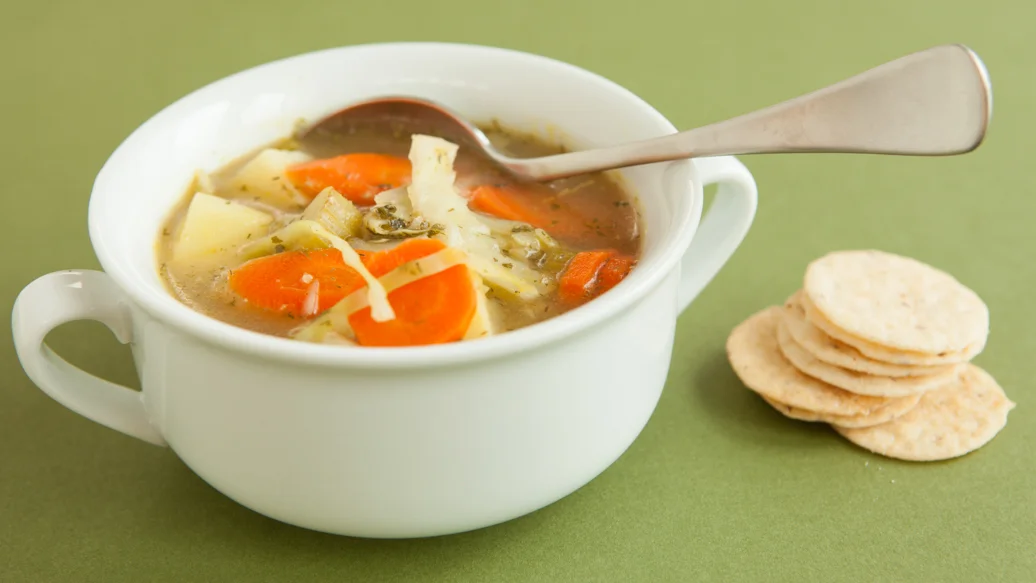 40 min
4 servings
$1.50/serving
Discover delicious Irish flavour with one of our favourites from the Emerald Isle.
Ingredients
6 slices bacon, diced
1⁄2 cup all-purpose flour
2 large carrots, thinly sliced
3 celery stalks, thinly sliced
1 tsp sugar
2 tbsp balsamic vinegar
3 baking potatoes, peeled and cubed
2 cups shredded green cabbage
1 cup buttermilk
Sea Salt, coarsely ground, to taste
Black Pepper, coarsely ground, to taste
Preparation
In Multipurpose Pot, cook bacon over medium-high heat until crisp. Meanwhile, place flour, carrots and celery in a paper or plastic bag and shake until thoroughly coated. Discard excess flour.
Remove and set aside bacon, keeping the hot fat in pan.
Add floured vegetables, reduce temperature to low and cook, stirring occasionally, for 5 minutes. Stir in sugar and Balsamic Vinegar.
Add potatoes, cabbage, 3 Onion Dip Mix and Nourish Broth. Stir and simmer for 20 minutes.
Add buttermilk and Lemon Dilly Dip Mix if using, heat to boiling and season with Salt and Pepper. Serve piping hot.
Nutritional Information
Per serving: Calories 360, Fat 7 g (Saturated 2.5 g, Trans 0 g), Cholesterol 15 mg, Sodium 570 mg, Carbohydrate 58 g (Fibre 7 g, Sugars 10 g), Protein 18 g.