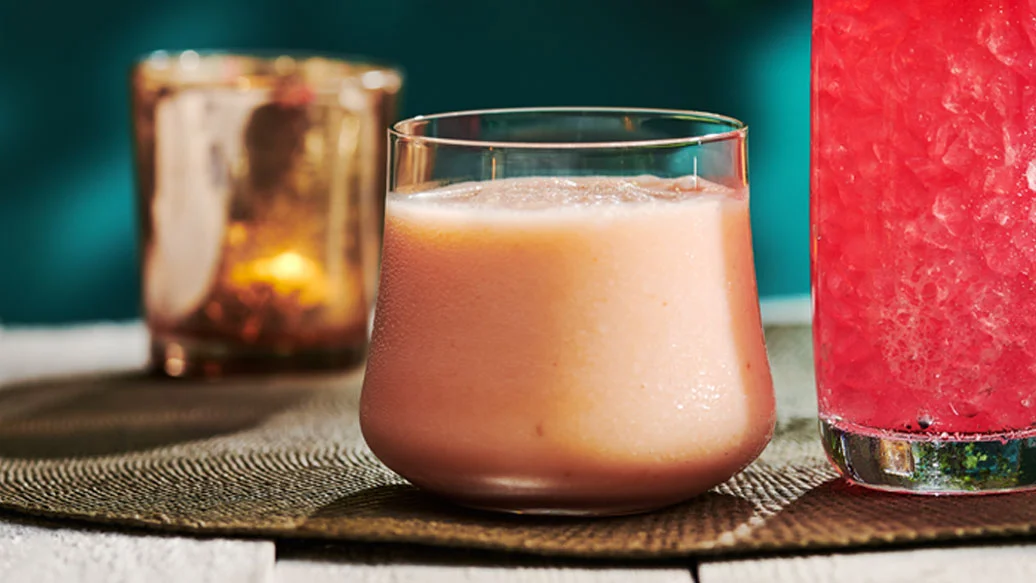 5 min
4 servings
$1.83/serving
You'll be tickled pink to find out that this tropical drink gets its blushing colour thanks to real fruit – watermelon! Perfectly ripe in the summer, or available year-round in the frozen section of the grocery store. Without the rum, it's delicious as a zero-proof mocktail. 
Ingredients
1 cup hot water
3 cups frozen cubed watermelon
1 cup frozen pineapple
2 oz light rum
Toppings (optional): Pineapple or watermelon slices
Preparation
In a bowl, whisk together mix and hot water. Stir until mix is dissolved.
Add to a blender with watermelon, pineapple, and rum. Blend until smooth. If needed, add a little water, 1 tbsp at a time, until desired thickness is reached.
Pour into chilled glasses. Garnish, if desired, and serve.
Nutritional Information
Per serving (about 200 ml): Calories 130, Fat 2.5 g (Saturated 2 g, Trans 0 g), Cholesterol 0 mg, Sodium 65 mg, Carbohydrate 20 g (Fibre 2 g, Sugars 12 g), Protein 1 g.
Tips
Find frozen watermelon chunks in the freezer section of the grocery store. Or, with the abundance of fresh watermelon during the summertime, simply freeze your own! Place cubed watermelon on Sheet Pan, freeze, then place in freezer-safe containers.