Orange Sweet Potato Gratin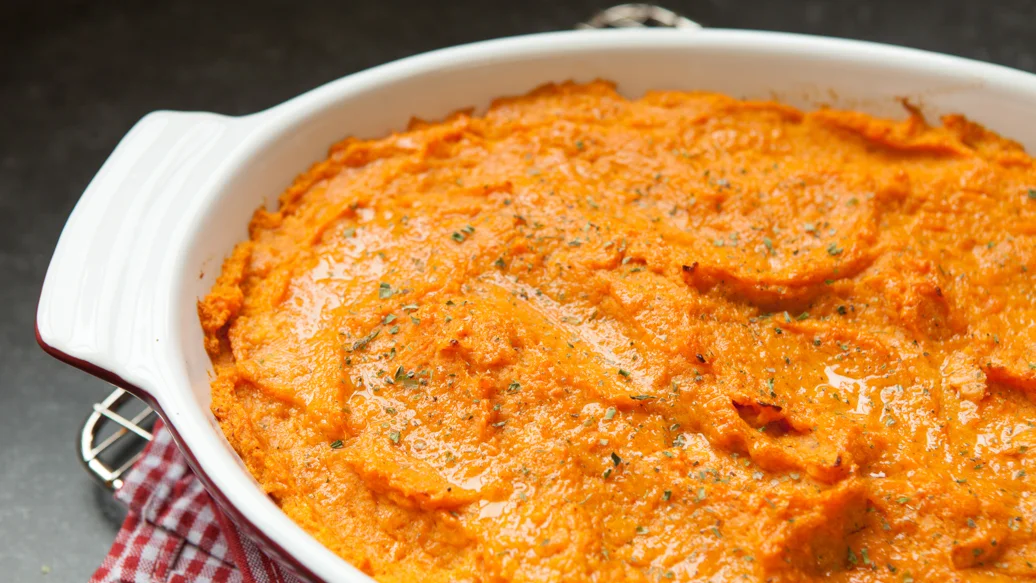 50 min
4 servings
$1.95/serving
We love serving this sweet potato twist on traditional potato gratin with pork, chicken, turkey or ham.
Ingredients
2 lbs (1 kg) or 4 medium sweet potatoes
1 egg, beaten
2 tbsp brown sugar
2 tsp finely chopped orange zest
1 orange, juiced
1⁄2 tsp Nutmeg (ground)
1 tsp Sea Salt, ground
Preparation
Preheat oven to 375° F (190° C).
Rinse and poke several holes in sweet potatoes. Microwave on high, turning halfway through, for 8–10 minutes, or until fork tender. Set aside and let cool.
In a small bowl, whisk together egg, brown sugar, orange juice, orange zest, ground Nutmeg and Sea Salt.
Peel and purée sweet potatoes. Beat in egg mixture and spoon into a casserole dish. Bake for 20 minutes, or until bubbly.
Nutritional Information
Per serving: Calories 360, Fat 2 g (Saturated 0.5 g, Trans 0 g), Cholesterol 6 mg, Sodium 740 mg, Carbohydrate 80 g (Fibre 12 g, Sugars 31 g), Protein 9 g.