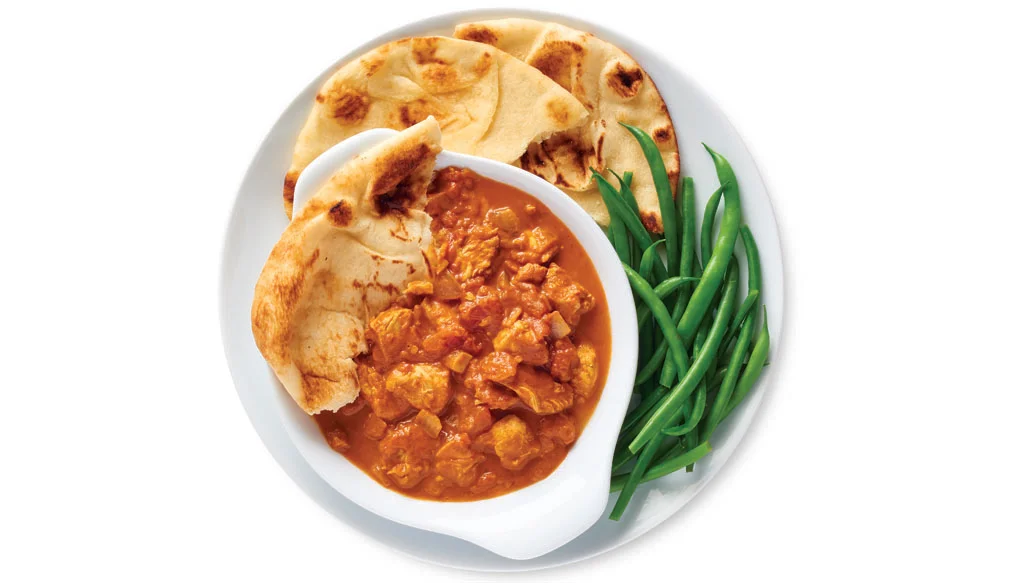 25 min
6 servings
$0.35/serving
Make delicious naan bread easily at home without the added preservatives or additives of store-bought. 
Ingredients
3⁄4 cup warm water
1 tsp quick-rise instant active yeast
1 tsp sugar
2 cups flour
1 tsp salt
2 tbsp oil
2 tbsp plain yogurt
1-2 tbsp melted butter, optional
Preparation
In a bowl, combine water, yeast, and sugar. Stir gently to dissolve sugar. Set aside for 10 minutes.
Meanwhile, in a large bowl, combine flour, salt, and aioli mix.
Add oil, yogurt, and yeast mixture.
Work with your hands to make dough smooth and knead until the dough pulls away from the bowl.
Turn the dough out onto a floured surface, and begin kneading the dough for 5 more minutes or until smooth and elastic.
Place the dough in a lightly oiled bowl, cover and set aside in a warm place. Let it rise for about 2 hours, or until it has doubled in size.
Punch the dough down and cut into 6 pieces. Roll each until they are about 1⁄4 inch thick. Set aside.
Heat a lightly oiled frying pan over medium heat. Place the rolled out dough onto the hot pan and cook 2–3 minutes until the underside is golden brown and large bubbles have formed on the top surface (bubbles will occur only if the pan is kept hot).
Flip the dough and cook the other side until golden brown as well. Brush with butter, if desired, and serve warm.
Nutritional Information
Per serving: Calories 200, Fat 4.5 g (Saturated 2.5 g, Trans 0 g), Cholesterol 10 mg, Sodium 390 mg, Carbohydrate 34 g (Fibre 2 g, Sugars 1 g), Protein 5 g.
Tips
This bread freezes well, so go ahead and make a big batch and freeze for later. 
Naan is great served with butter chicken, or use for flatbread pizzas and sandwiches.