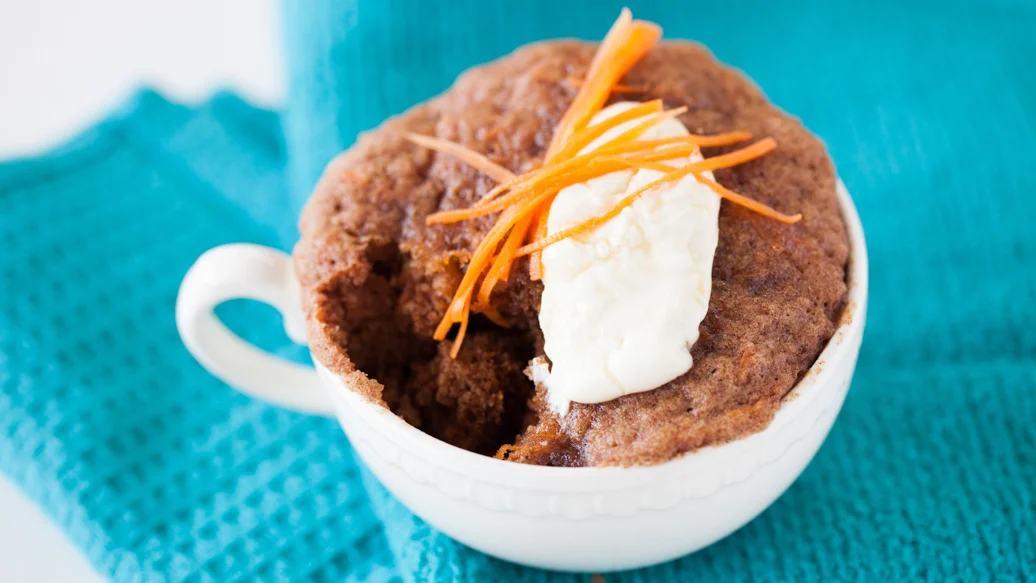 Ingredients
1⁄2 cup all-purpose flour
1⁄4 cup whole wheat flour
1⁄4 cup lightly packed brown sugar
1 tsp baking soda
Sea Salt
1 egg
1 tsp vanilla extract
1⁄4 cup vegetable oil
1⁄4 cup orange juice
1 cup finely grated carrot
2 - 4 tsp light cream cheese, at room temperature
2 - 3 tbsp honey
Preparation
In bowl, stir flours with sugar, Apple Pie Spice, baking soda and Sea Salt.
In another bowl, whisk egg with vanilla extract, then whisk in oil and orange juice. Pour over dry mixture and stir just until mixed. Fold in carrot.
Scrape into 2 large or 4 small, lightly oiled mugs. Microwave on high until cooked through, 2–2 1⁄2 minutes.
While still warm, top each with a spoonful of cream cheese and a drizzle of honey.
Nutritional Information
Per serving: Calories 340, Fat 16 g (Saturated 2 g, Trans 0 g), Cholesterol 65 mg, Sodium 350 mg, Carbohydrate 45 g (Fibre 3 g, Sugars 24 g), Protein 5 g.
Tips
Use all white flour for a lighter cake or mix in whole wheat to boost fibre.
Flavour Changer: Use crème fraîche instead of cream cheese.