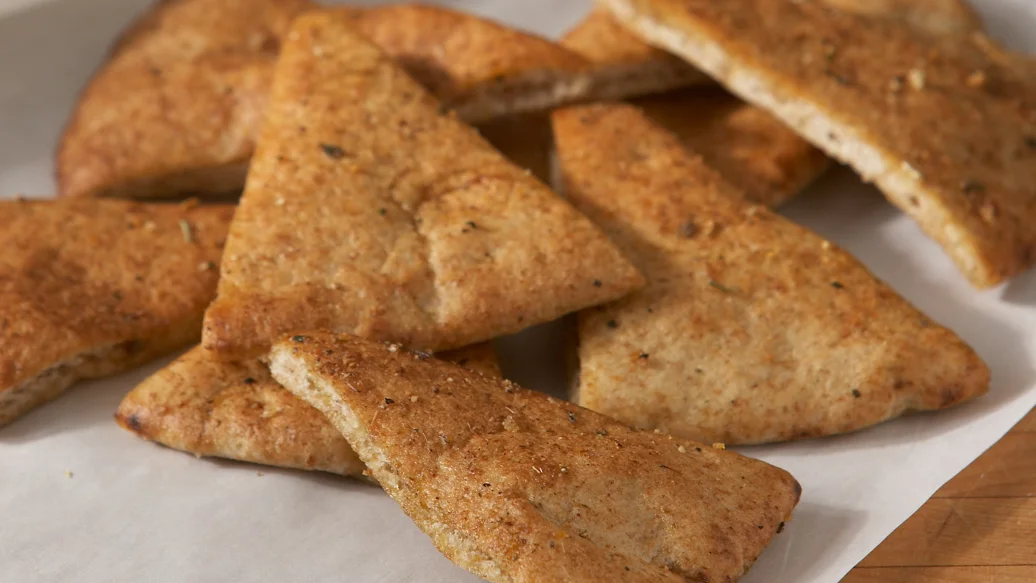 20 min
48 pieces
$0.60/serving
Ingredients
1⁄4 cup olive oil
1 tsp Curry Seasoning
1 tsp cumin (ground)
6 (6 in) pita breads
Sea Salt, to taste
Black Pepper, to taste
Preparation
Preheat oven to 350° F (175° C).
Whisk together olive oil, Curry and cumin.
Brush both sides of pita breads with above mixture.
Stack pita and cut into 8 pieces.
Place on Sheet Pan lined with Sheet Pan Liner. Make sure pita do not overlap.
Grind Sea Salt and Black Pepper over all.
Bake 8 - 10 minutes or until golden and crisp. Serve hot or at room temperature.
Nutritional Information
Per serving (6 crisps): Calories 150, Fat 4 g (Saturated 0.5 g, Trans 0 g), Cholesterol 0 mg, Sodium 250 mg, Carbohydrate 25 g (Fibre 1 g, Sugars 1 g), Protein 4 g.