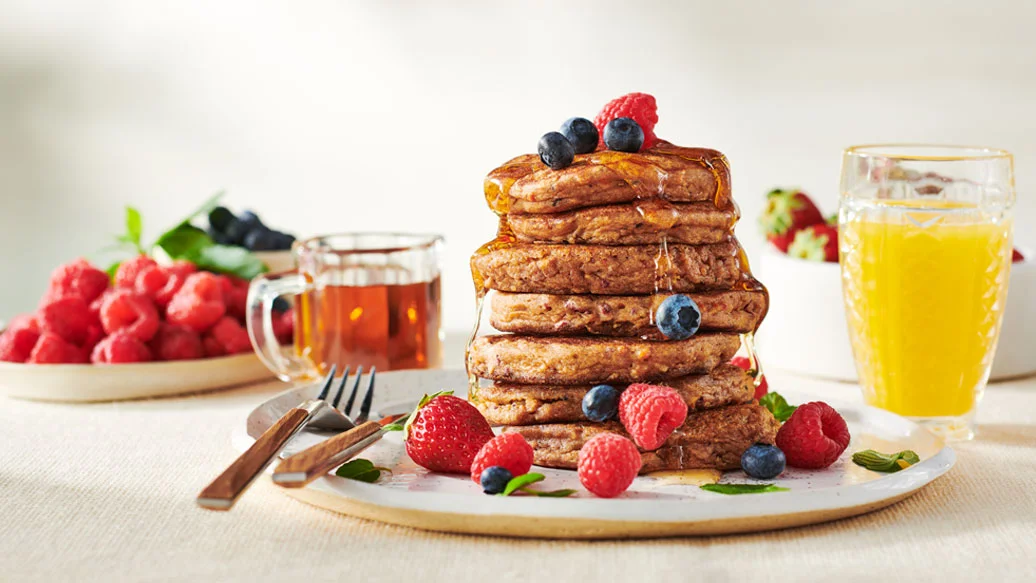 20 min
4 servings
$1.62/serving
Bursting with flavour, and made with real carrot, apple, cranberry, and coconut pieces (no chopping required!). Easy to freeze and reheat in the toaster or microwave. 
Perfectly Balance Your Plate
Serve with 3⁄4 cup plain 2% Greek yogurt and 1⁄2 cup chopped fruit. 
Ingredients
1 egg
1 cup milk
3 tbsp oil, divided
Toppings (optional): maple syrup, seasonal berries
Preparation
In a large bowl, combine muffin mix, egg, milk, and 2 tbsp oil. Let batter rest 3 min (it will continue to thicken). If batter is too thick, add water, 1 tbsp at a time, to adjust consistency. 
Heat 1 tsp oil in Sauté Pan over medium heat.
Working in batches and using 1⁄4 cup as a guide, scoop 3 pancakes into pan, leaving space between them.
Cook 2–5 min. When bubbles appear on top of batter, flip each pancake and cook for additional 1–2 min.
Repeat steps 2–4 for two more batches, or until all batter is cooked. Cooking times will vary.
Serve with toppings, if desired.
Nutritional Information
Per serving (2 pancakes): Calories 340, Fat 14 g (Saturated 3 g, Trans 0.1 g), Cholesterol 50 mg, Sodium 510 mg, Carbohydrate 47 g (Fibre 2 g, Sugars 15 g), Protein 6 g.
Tips
Make a large batch of pancakes and freeze them. Reheat in the toaster or microwave for a quick and hearty breakfast!