Mexican Chicken and Cheese Tortas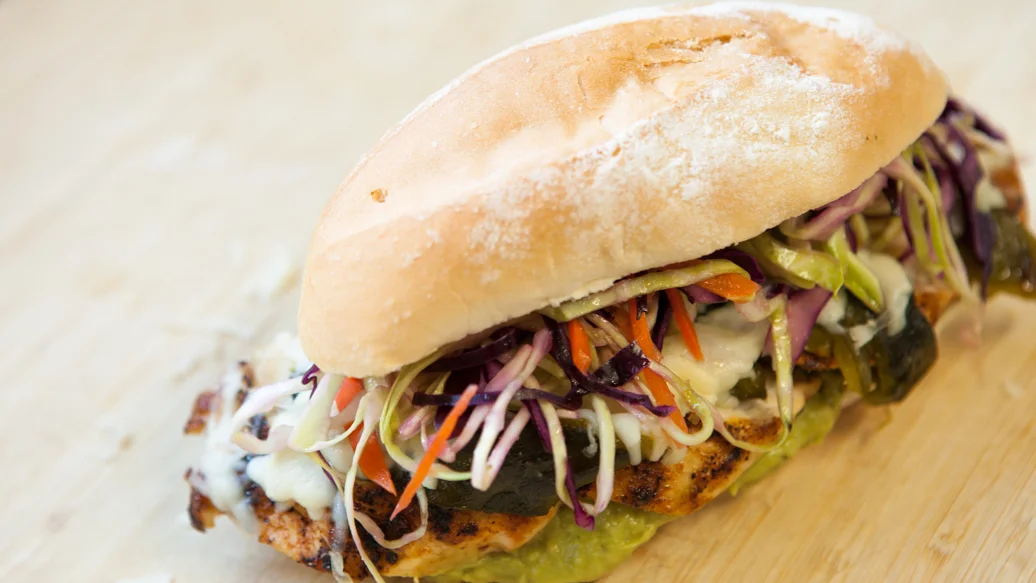 25 min
4 servings
$2.40/serving
In Mexico, Tortas are a popular type of sandwich served on long crusty rolls called bolillos, but large, crusty French rolls work well. Enjoy this delicious version layered with seasoned chicken, grilled poblano peppers, Epicure's Guacamole and melted cheese.
Ingredients
2 boneless, skinless chicken breasts
2 tbsp vegetable oil, divided
2 poblano peppers, or your choice
1 1⁄2 cups shredded cabbage
2 carrots, shredded
1 tsp white balsamic vinegar
1⁄4 tsp sugar
juice of 1 lime
Sea Salt, to taste
Black Pepper, to taste
1⁄2 onion, thinly sliced
1 cup grated low-fat cheese
4 crusty rolls, split and lightly toasted
Preparation
Brush chicken breasts with 2 tsp oil and sprinkle with Fajita Seasoning. Let stand while grilling peppers and preparing coleslaw.
Heat a grill pan over medium-high heat and char peppers on both sides until blackened. Place in a small bowl, cover with plastic wrap and let rest for 5 minutes before peeling and removing seeds. Thinly slice and set aside.
Toss cabbage and carrot with remaining oil, white balsamic vinegar, Taco Seasoning, sugar and lime juice. Taste and season with Sea Salt and Pepper. Set aside.
Heat grill pan over medium-high heat and grill chicken, turning once, until cooked through, approximately 4–5 minutes per side.
Pre-heat broiler.
To assemble, divide guacamole between bottom halves of rolls. Top with chicken, peppers, onions and cheese. Place under broiler until cheese is melted and bubbly.
Scoop out top halves of rolls and fill with coleslaw. Place on bottom halves and serve.
Nutritional Information
Per serving: Calories 430, Fat 18 g (Saturated 4.5 g, Trans 0 g), Cholesterol 50 mg, Sodium 520 mg, Carbohydrate 42 g (Fibre 5 g, Sugars 5 g), Protein 25 g.