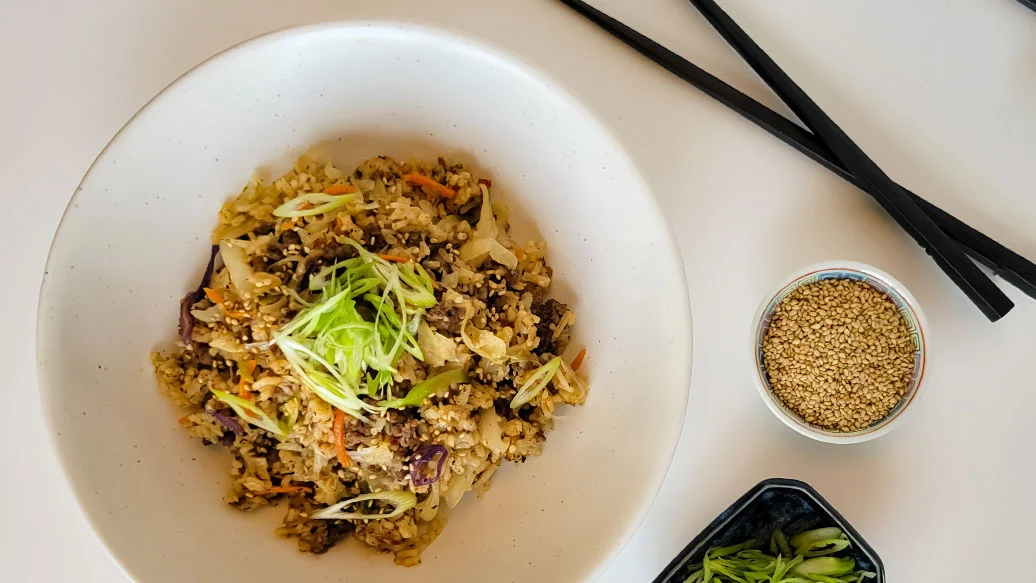 15 min
4 servings
$2.55/serving
Make something out of nothing—use your leftover rice and vegetables from last night's dinner to make a feast you'll keep coming back for!
Perfectly Balance Your Plate
Serve with 1 cup steamed vegetables.
Ingredients
1 pkg Classic Meatloaf Seasoning
1 tbsp low-sodium soy sauce
2 tbsp water
1 tbsp sesame oil
1 tbsp vegetable oil
1 lb (450 g)  lean ground beef, chicken or pork
4 cups cold, cooked white rice
4 cups shredded coleslaw
Toppings (optional): green onions, Poke Bowl Topper
Preparation
In a small bowl, whisk together seasoning, soy sauce, water, and sesame oil. Set aside.   
In Wok, heat vegetable oil over medium-high heat.
Crumble beef into wok; stir-fry until cooked through, 3–4 min.   
Increase heat to high; add rice. Stir often to break up clumps and heat through, about 3 min.   
Gradually add coleslaw 1 cup at a time (wok will be full); stir-fry 3–4 min or until coleslaw is tender-crisp.
Turn off the burner; add reserved seasoning mixture and stir to combine.
Nutritional Information
Per serving: Calories 500, Fat 24 g (Saturated 8 g, Trans 0.5 g), Cholesterol 90 mg, Sodium 520 mg, Carbohydrate 33 g (Fibre 4 g, Sugars 3 g), Protein 38 g.
Tips
Use up those leftovers and add in any cooked vegetables you have in your fridge—there is no wrong answer here!
Poke Bowl Topper is a mix of sesame seeds, ginger, cilantro, and nori flakes. Shake over any rice dish.