Meatless Rigatoni Casserole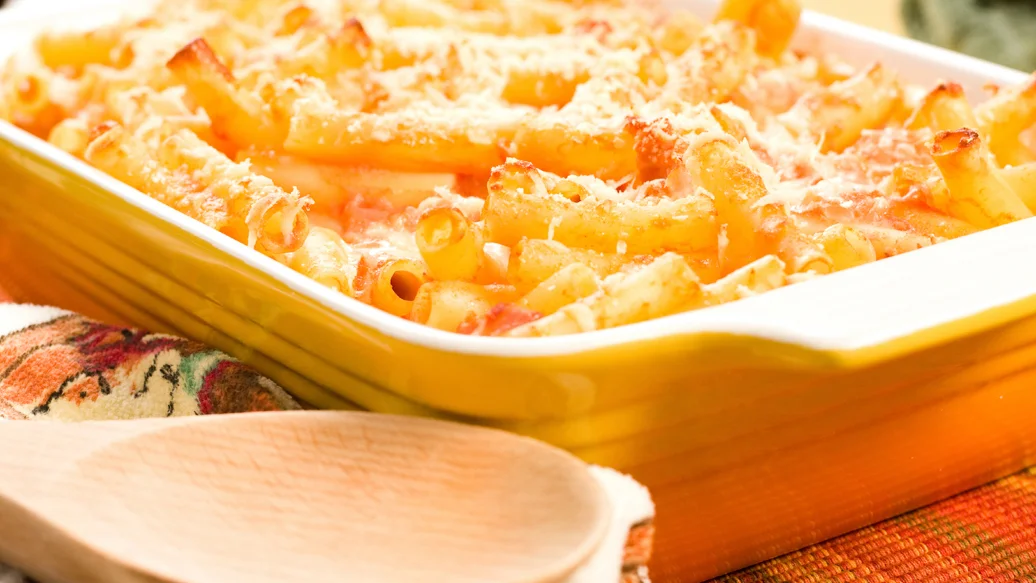 1 hr
8 servings
$2.34/serving
Ingredients
1 lb (450 g) pkg rigatoni
Sea Salt, to taste
2 eggs
2 cups part skim ricotta cheese
1⁄4 cup grated Parmesan cheese
2 cups shredded partly skimmed Mozzarella cheese, divided
Preparation
Preheat oven to 350° F (175° C).
Cook rigatoni according to package directions.
Simmer Marinara Sauce and Herb & Garlic Dip Mix for 10 minutes. Season to taste with freshly ground Sea Salt.
Beat eggs in large mixing bowl. Add ricotta, Parmesan, and 1 cup mozzarella.
Spread 1 1⁄2 cups sauce on bottom of a 9" x 13" baking dish. Top with 1⁄2 of rigatoni, 1⁄2 egg and cheese mixture, and 1⁄2 cup grated mozzarella.
Repeat next layer, ending with sauce. Top with remaining mozzarella.
Bake, uncovered for 30 to 35 minutes or until bubbling.
Nutritional Information
Per serving: Calories 480, Fat 16 g (Saturated 8 g, Trans 0 g), Cholesterol 110 mg, Sodium 280 mg, Carbohydrate 55 g (Fibre 2 g, Sugars 6 g), Protein 25 g.