Make-Ahead Mexican Layer Dip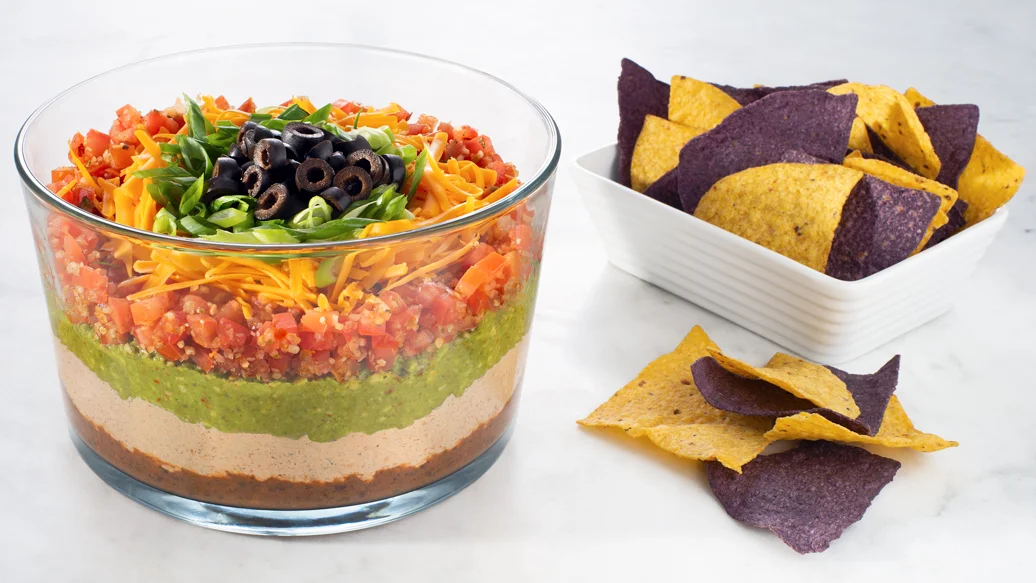 15 min
9 1/2 cups
$0.38/serving
Ingredients
1 1⁄2 cups grated cheese
1⁄2 cup green onions
1⁄4 cup chopped pitted black olives
1 cup shredded lettuce, optional
Preparation
Spread Black Bean Dip in bottom of a large bowl that will hold at least 10 cups. Using a low, wide bowl will make it easy to dip through all the layers.
Using a spoon, dollop CCB Dip overtop, then spread out. Repeat with Guacamole, and then finish with Poco Picante Salsa.
Starting at outside, garnish with concentric rings of cheese, onions, and olives. Scatter lettuce overtop, if desired. Cover and refrigerate until ready to serve. For best results, bring to room temperature before serving.
Nutritional Information
Per serving (3 tbsp): Calories 60, Fat 6 g (Saturated 2 g, Trans 0 g), Cholesterol 10 mg, Sodium 120 mg, Carbohydrate 4 g (Fibre 1 g, Sugars 1 g), Protein 2 g.
Tips
Get ahead of the game and prep all the dip layers 1–2 days before assembling. Follow the recipe on the back of each jar—you'll need black beans, diced tomatoes, lime, avocado, sour cream, cream cheese, and grated cheddar cheese.