Lemon Vanilla Cupcakes & Quick Creamy Icing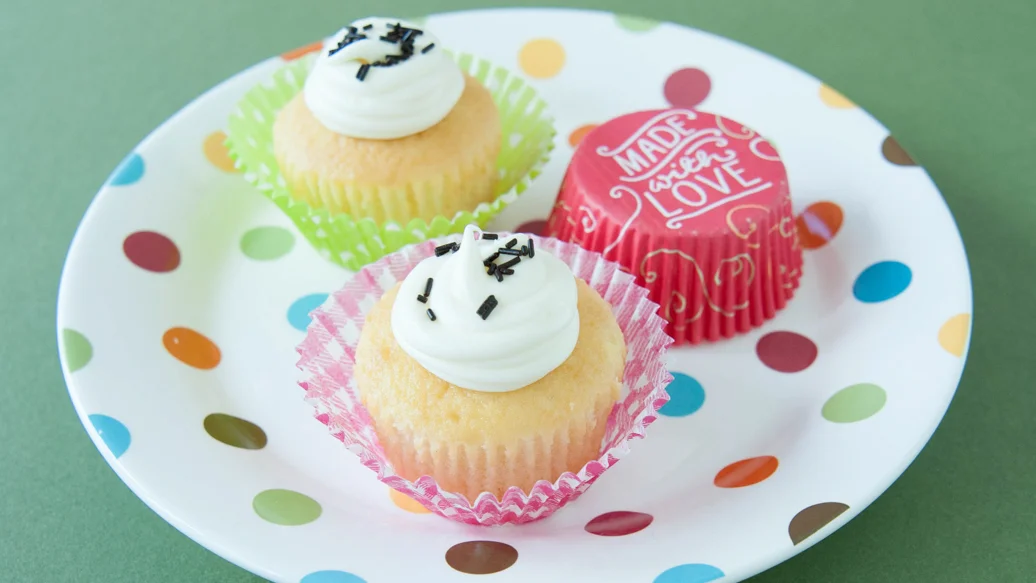 1 hr
12 cupcakes
$0.55/serving
Cupcakes are still all the rage. Pretty amazing, seeing as they've been around since the 1700s! This classic recipe is a staple you'll make time and time again. Kiddie parties, beautiful sweet buffets, you've got it covered.
Ingredients
CUPCAKES
1⁄2 cup butter
1 cup sugar
2 large eggs
2 tsp lemon zest, finely chopped
1 tsp vanilla extract
1 1⁄2 cups all-purpose flour
1 tsp baking powder
1 tsp Sea Salt, finely ground
1⁄2 cup low-fat milk
ICING
2 tbsp softened butter
2 1⁄2 cups icing sugar
1 egg
1 tsp vanilla extract
2 tbsp light cream
Preparation
Preheat oven to 350° F (180° C). Line muffin pan with paper cups and set aside.
In a large mixing bowl, cream butter and sugar. With an electric mixer, beat in eggs one at a time. Beat in lemon zest and vanilla extract. In a separate mixing bowl, using Piano Wire Whisk, whisk flour, Baking Powder, and salt.
Alternately mix in dry ingredients and milk. Spoon batter into cups.
Bake until cupcakes spring back when gently pressed in the centre, approximately 18 minutes. Cool before icing.
To make icing, cream butter with icing sugar. Beat in egg and vanilla, and cream until easy to spread.
Nutritional Information
Per serving (1 cupcake): Calories 350, Fat 13 g (Saturated 8 g, Trans 0.4 g), Cholesterol 90 mg, Sodium 240 mg, Carbohydrate 57 g (Fibre 0 g, Sugars 44 g), Protein 4 g.