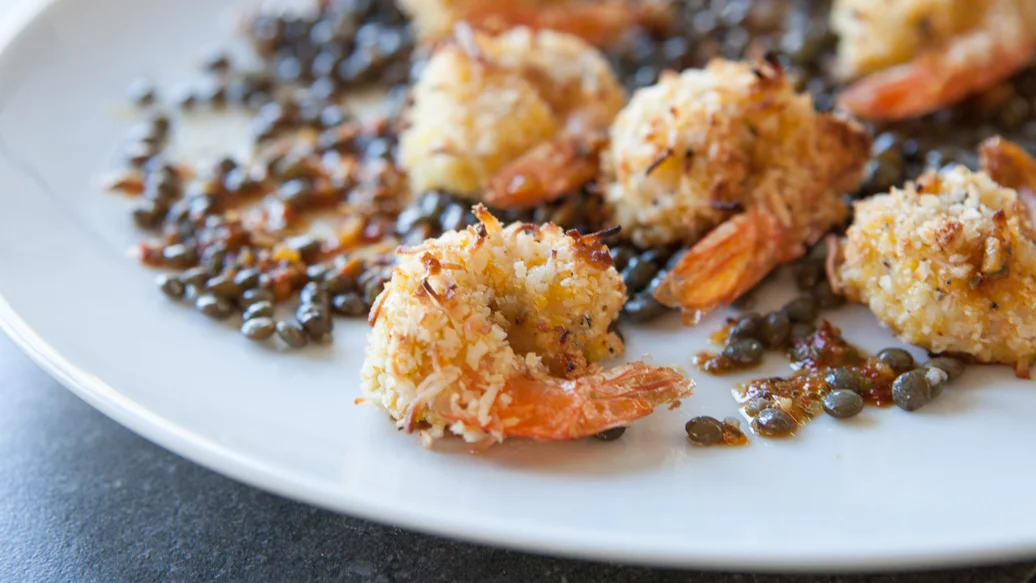 20 min
8 - 10 servings
$1.60/serving
Ingredients
1 cup Le Taj Sauce, prepared
1 lb (450 g) large shrimp, raw, peeled, deveined, with tails left on
1 cup panko or gluten-free breadcrumbs
1 cup unsweetened coconut flakes
Preparation
Preheat oven to 450°F (225°C).
Spoon half prepared Le Taj Sauce into a large bowl. Add shrimp and, using your hands, mix to evenly coat.
In a plastic bag, mix breadcrumbs with coconut flakes.
Add one shrimp at a time to bag and shake to coat evenly. Place on a Sheet Pan lined with a Sheet Pan Liner. Discard any leftover coating. Repeat with remaining shrimp and breadcrumbs. For a crispier crust, lightly spray shrimp with cooking oil, avoid spraying Sheet Pan Liner.
Roast in oven until coating is golden and crispy and shrimp are cooked, about 7–10 minutes.
Serve with remaining prepared Le Taj Sauce for dipping.
Nutritional Information
Per serving: Calories 160, Fat 9 g (Saturated 6 g, Trans 0 g), Cholesterol 65 mg, Sodium 160 mg, Carbohydrate 10 g (Fibre 2 g, Sugars 1 g), Protein 9 g.