Jamaican Jerk Chicken Pizza with Fruit Salsa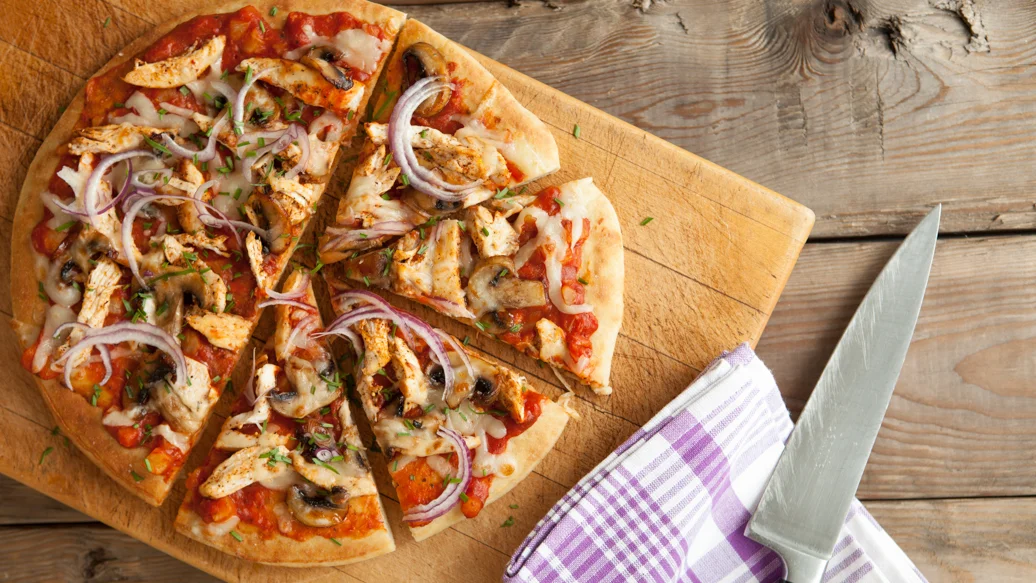 30 min
8 servings
$1.53/serving
Using a whole-wheat pizza crust is a great way to increase heart-healthy fibre.
Perfectly Balance Your Plate
Serve with a vegetable platter and prepared Epicure Dip.
Ingredients
2 boneless, skinless chicken breasts, cut in thin strips
1 tbsp Jamaican Jerk Seasoning
2 tbsp olive oil
1 x 12 inch prepared pizza crust
1 cup sliced mushrooms
1⁄2 cup sliced onion
1⁄3 cup tomato sauce
1⁄3 cup crushed pineapple, drained
1 cup grated partly-skimmed Mozzarella, Provolone or Monterey Jack cheese
Preparation
Toss chicken strips with Jamaican Jerk Seasoning.
Heat olive oil in a frying pan over medium high heat. Stir-fry chicken strips, remove from pan and set aside.
Sauté mushrooms and onions for 1 minute and set aside.
In a small bowl, combine tomato sauce, crushed pineapple and Salsa Mix. Spread on pizza crust. Top with chicken, mushrooms, onions and cheese.
Bake in preheated 450° F (230° C) oven for 12-14 minutes or until crust is golden.
Nutritional Information
Per serving: Calories 230, Fat 5 g (Saturated 1 g, Trans 0 g), Cholesterol 20 mg, Sodium 490 mg, Carbohydrate 29 g (Fibre 2 g, Sugars 3 g), Protein 17 g.
Tips
Make pizza the night before, then simply fire-up the grill and cook over medium heat for 10 minutes.