Indonesian Satay (Peanut) Sauce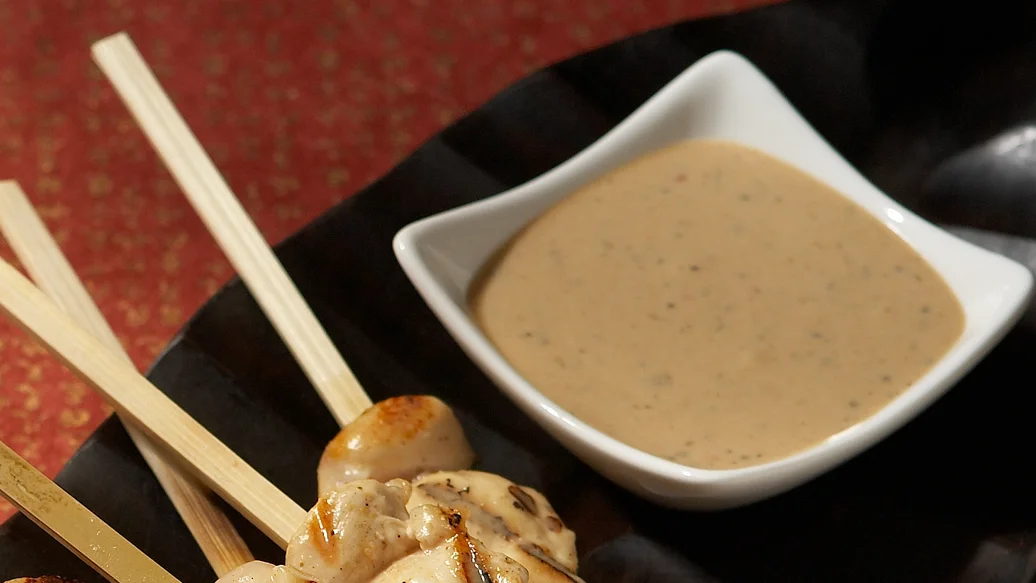 7 - 13 min
2 2/3 cups
$0.20/serving
A classic Asian dipping sauce or marinade for chicken, beef, pork, tofu, vegetables or shrimp skewers.
Ingredients
1 tbsp peanut oil or vegetable oil
1 tbsp Thai Seasoning
1 cup chunky peanut butter
1 tbsp brown sugar
2 tbsp soy sauce
1 tbsp sesame oil
juice of half a lemon or lime
crushed chilies, to taste
Preparation
Combine first 4 ingredients in Multipurpose Pot - 8 cup. Bring to a boil over medium-high heat and cook for 1 minute. Remove from heat.
Place peanut butter and brown sugar in a medium mixing bowl. Whisk in hot Bouillon mixture, soy sauce, sesame oil and lemon or lime juice.
Season with crushed chilies.
Nutritional Information
Per serving (2 tbsp): Calories 90, Fat 7 g (Saturated 1 g, Trans 0 g), Cholesterol 4 mg, Sodium 95 mg, Carbohydrate 4 g (Fibre 1 g, Sugars 2 g), Protein 3 g.