Hot Buttered Rum Squash Cake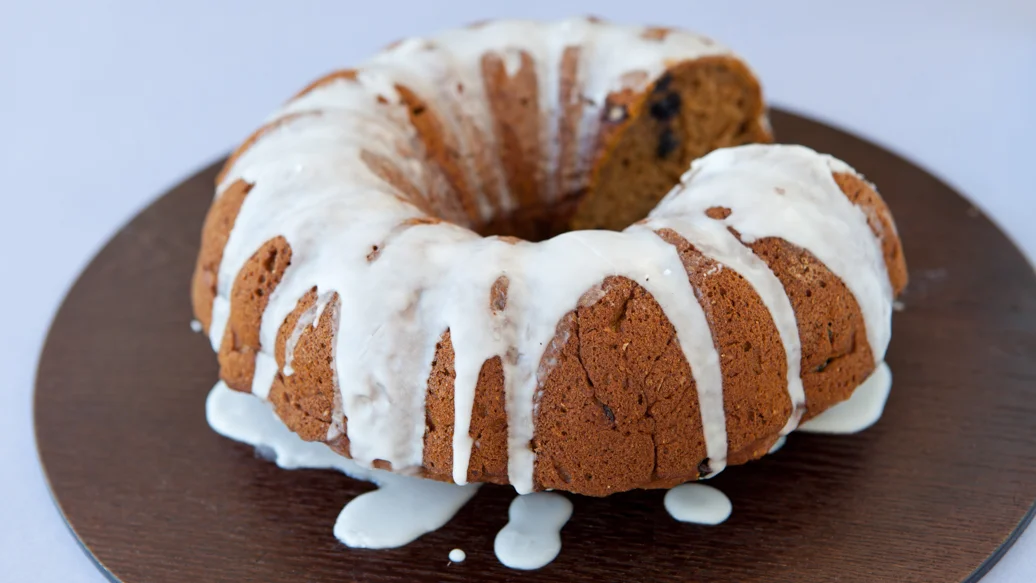 1 hour 20 min
16 servings
$0.80/serving
Veggie-filled baked goods are an easy way to up fibre intake and boost nutrients, while still feeling satisfied.
Ingredients
2 1⁄2 cups whole-wheat flour
1⁄2 cup dried fruits
1 tbsp baking powder
1 tsp baking soda
1 1⁄2 tbsp Pumpkin Pie Spice
1 cup brown sugar
2 eggs
1 cup milk
1⁄4 cup vegetable oil
1⁄4 tsp almond extract
2 cups cooked, puréed pumpkin or squash
3 tbsp Hot Buttered Rum Mix
1⁄3 cup icing sugar
1 - 3 tsp orange juice
Preparation
Preheat oven to 350° F (175° C). Spray a Bundt® Pan with oil.
In a bowl, stir first 6 ingredients together. In a separate bowl, whisk eggs, then whisk in milk, oil, and almond extract. Whisk in pumpkin purée until evenly mixed.
Turn wet mixture over dry and stir just until mixed. Turn half the mixture into prepared pan and drop in Hot Buttered Rum in small spoonfuls. Spoon in remaining batter, then smooth top.
Bake for 1 hour, until a cake tester inserted in centre of cake comes out clean. Cool for 30 minutes, then turn out onto a cooling rack. Cool completely.
For the glaze, whisk icing sugar with 1 tsp juice. Gradually whisk in remaining juice as needed to form a glaze. Spoon over cooled cake.
Nutritional Information
Per serving: Calories 230, Fat 5 g (Saturated 1 g, Trans 0 g), Cholesterol 30 mg, Sodium 160 mg, Carbohydrate 44 g (Fibre 4 g, Sugars 26 g), Protein 4 g.