Hot Buttered Popcorn Crunch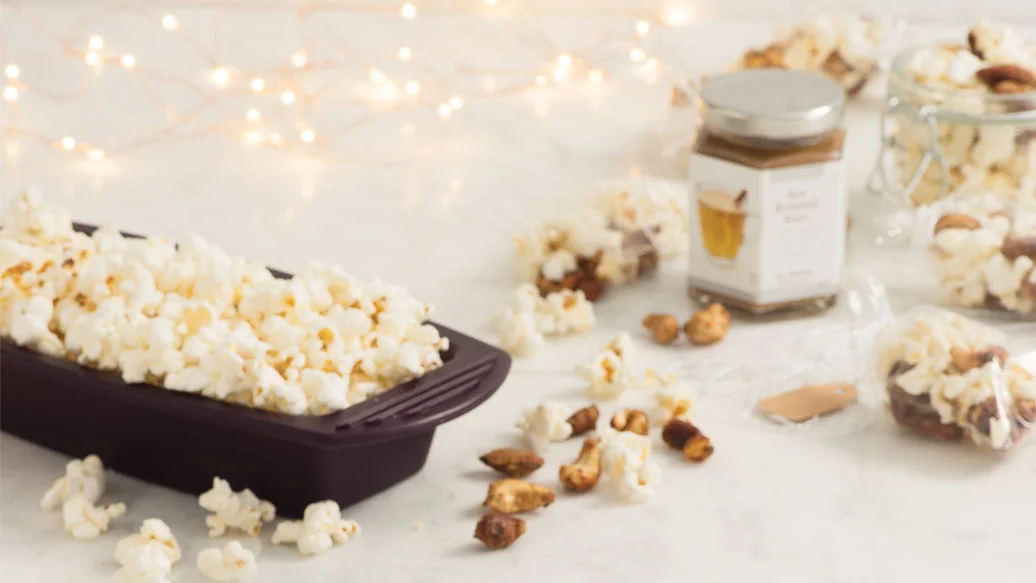 11 - 15 min
5 cups
$0.78/serving
Ingredients
1⁄4 cup Hot Buttered Rum Mix
2 cups mixed nuts, such as whole almonds, pecans, and peanuts
2 tbsp popcorn kernels
2 tsp oil
1 1⁄2 tbsp Maple Kettle Corn Popcorn Seasoning
Preparation
Melt Hot Buttered Rum Mix in fry pan over medium heat.
Add nuts; stir occasionally for 5–7 min until toasted and aromatic.
Meanwhile, place popcorn kernels in a Rectangular Steamer; cover with lid and microwave on high for 2–3 min. Turn into a large bowl; drizzle with oil and sprinkle with seasoning. Toss to mix.
Add warm nuts; toss to mix.
Cool and store mix in an airtight container at room temperature.
Nutritional Information
Per serving (1/2 cup): Calories 250, Fat 18 g (Saturated 2 g, Trans 0 g), Cholesterol 5 mg, Sodium 160 mg, Carbohydrate 19 g (Fibre 3 g, Sugars 12 g), Protein 7 g.
Tips
Try topping popcorn with unrefined coconut oil; it has a great flavour.