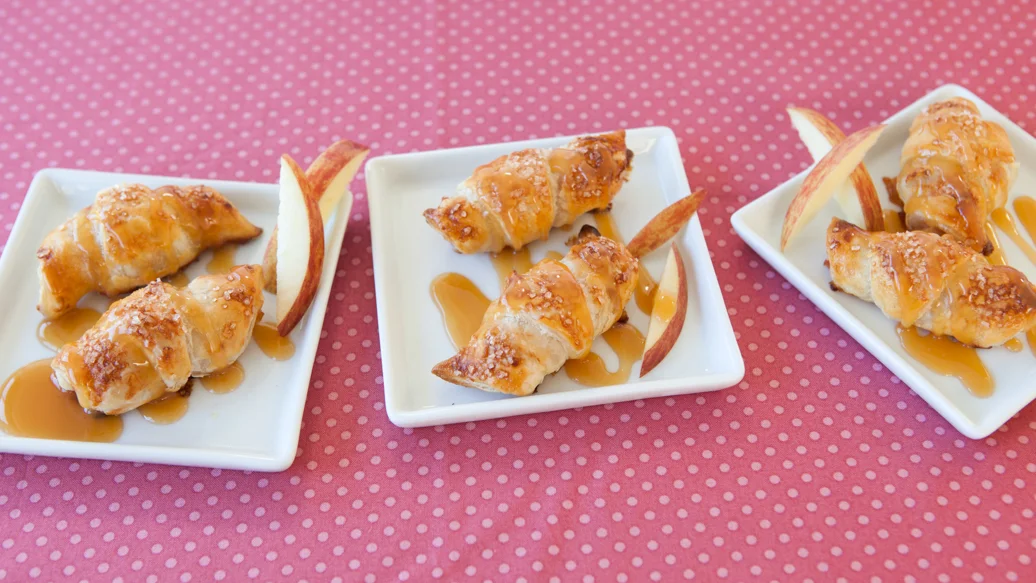 25 - 30 min
18 small or 10 large strudels
$0.30/serving
These little pastries remind us of caramel apples!
Ingredients
1 pkg (8 oz/250 g) frozen puff pastry, defrosted
flour, for dusting
1 - 2 granny smith apples, cored and finely chopped
2 tbsp low-fat milk
Preparation
Preheat oven to 425° F (220° C).
Preheat a frying pan over medium-high heat. Add apples, and Apple Pie Spice. Sauté for 3–4 minutes, stirring constantly, until apples are a little soft. Set aside.
On a Sheet Pan Liner, roll puff pastry into a 10.5" square. Gently flip. Using a rolling pin, firmly roll over to cut pastry into triangles.
Spoon apple mixture onto each triangle: 1⁄2 tsp for small, 1–2 tsp for large. Starting at wide end, roll up each strudel.
Place on Sheet Pan lined with Sheet Pan Liner. Using a basting brush, brush with milk, and bake until puffy and light golden: 10–11 minutes for small, 12–14 minutes for large.
Nutritional Information
Per serving (1 small strudel): Calories 80, Fat 5 g (Saturated -0.5 g, Trans 0 g), Cholesterol 0 mg, Sodium 35 mg, Carbohydrate 8 g (Fibre 0 g, Sugars 1 g), Protein 1 g.
Tips
Once cool, garnish with a drizzle of caramel sauce and a sprinkle of icing sugar, just before serving.