Honey Mustard & Pineapple Glazed Ham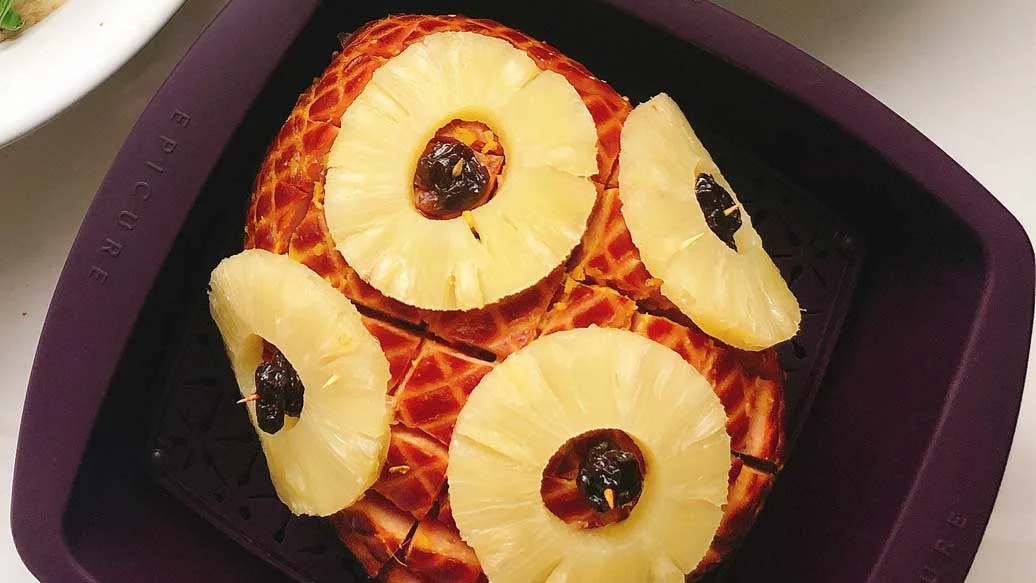 1 hr 25 min
10 servings
$2.57/serving
You don't need to celebrate Easter to enjoy a special meal! This classic ham recipe is a crowd pleaser and perfect for feeding a crowd.
Ingredients
1 knob fresh ginger, about 2" long
1⁄2 cup Honey Mustard
3 tbsp coconut palm sugar, divided
2 lbs (900 g) cooked, smoked boneless ham
1 can (14 oz/398 ml) pineapple rings
1 tbsp dried cherries, about 8 cherries
Preparation
Preheat oven to 325° F.
Peel and grate ginger into a small bowl. Stir in mustard and 2 tbsp sugar. Set aside.
Using a knife, score top and sides of ham in a diamond pattern. Place in Multipurpose Steamer; pour mustard glaze over top. Using your hands, rub to evenly coat ham.
Open can of pineapple rings. Spoon out rings and 2 tbsp juice; set aside for later. Pour remaining juice into steamer. Cover with lid; bake 30 min. Uncover, baste ham with pan juices. Cover and continue baking for 30 min.
Meanwhile, in Prep Bowl, combine cherries and reserved 2 tbsp pineapple juice. Microwave 1 min or until cherries have plumped up. Set aside.
Removes steamer from oven and uncover. Using toothpicks, decoratively arrange the pineapple rings and cherries on the ham. Pour remaining cherry liquid in steamer. Sprinkle pineapple rings with remaining 1 tbsp sugar. Bake uncovered, until the pineapple rings turn a golden brown, about 10 min.  
Let ham stand for 10 min before slicing. Reserve pan juices for dipping, if desired.
Nutritional Information
Per serving: Calories 170, Fat 3 g (Saturated 1 g, Trans 0 g), Cholesterol 50 mg, Sodium 1140 mg, Carbohydrate 17 g (Fibre 0 g, Sugars 16 g), Protein 19 g.
Tips
Make boozy cherries! Instead of re-hydrating your cherries with pineapple juice, try brandy, bourbon, or orange liqueur. 
Skip peeling your ginger—simply scrub your ginger clean and grate!