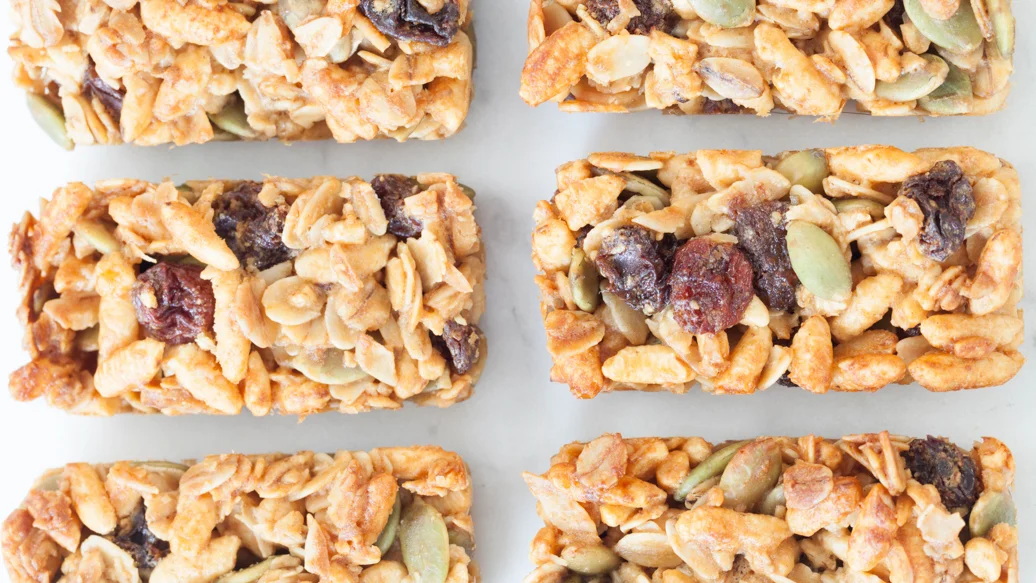 20 min
30 bars
$0.20/serving
A perfectly portioned, honey-sweetened granola bar perfect for lunches or when you are on the go. One recipe makes 30 mini bars!
Ingredients
1 1⁄2 cups puffed rice cereal
1 1⁄2 cups rolled oats
1⁄2 cup dried raisins
1⁄2 cup raw pumpkin seeds
1⁄2 cup honey
1⁄4 cup vegetable oil
3 tbsp nut butter
1 tsp vanilla extract
Preparation
Heat oven to 325°F (160°C).
Place a lightly oiled Perfect Petites on Sheet Pan.
Place first five ingredients in a food processor.
Melt remaining ingredients in microwave for 50 seconds on HIGH. Drizzle into food processor.
Pulse mixture until all ingredients are just blended.
Divide mixture evenly between sections of the mold. Press in lightly. Bake for 15 minutes.
When cool to the touch, flip mold onto the Sheet Pan and twist to pop out granola bars.
Nutritional Information
Per serving (1 bar): Calories 80, Fat 3 g (Saturated 0.3 g, Trans 0 g), Cholesterol 0 mg, Sodium 1 mg, Carbohydrate 12 g (Fibre 1 g, Sugars 6 g), Protein 1 g.