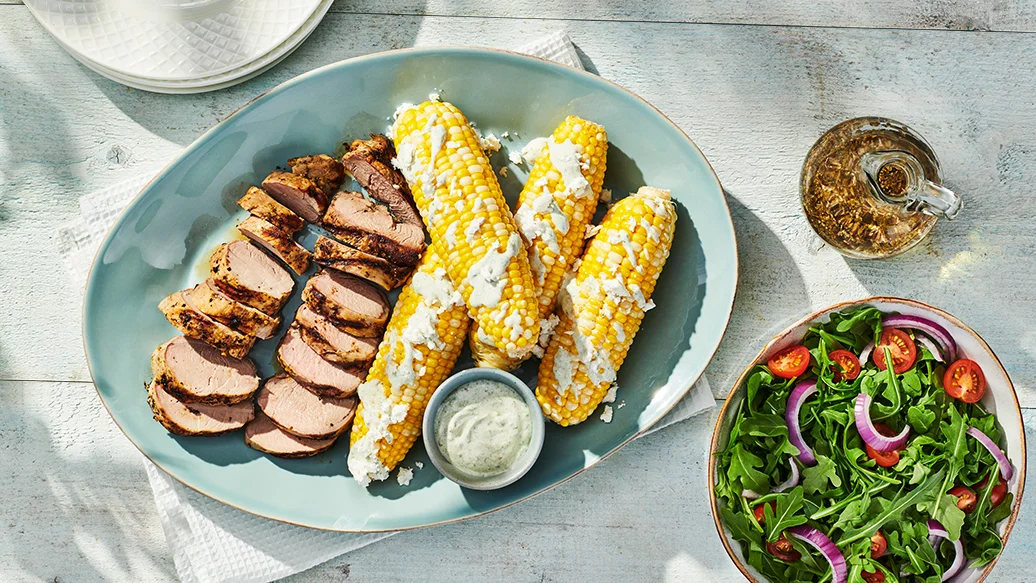 20 min
4 servings
$3.40/serving
Perfectly Balance Your Plate
Serve with 2 cups mixed greens.
Ingredients
1⁄4 cup mayonnaise
2 tbsp Feisty Green Sauce Mix, divided
2 tbsp water
1 lime, divided
1 lb (450 g) pork tenderloin, about 1/2 -1" thick
4 small corn cobs
1⁄2 cup 2% plain Greek yogurt
2 tbsp milk, your choice
1⁄3 cup crumbled feta cheese
Preparation
Preheat grill to medium-high. In a bowl, whisk mayonnaise with 1 tbsp sauce mix and water. Slice lime in half. Using 2-in-1 Citrus Press, squeeze in juice from half lime.  
With a paper towel, pat pork dry. Cut in half crosswise; coat each piece with sauce. If you have extra time, refrigerate and marinate for 15 min or overnight. 
Place pork on grill. Cook, flipping once, about 8–9 min per side, or until cooked through. 
Meanwhile, cut off and discard stem ends from corn. Leave silky tassels at the top end. Place cob in Multipurpose Steamer. Cover; microwave on high 5 min. Using oven mitts, gently grip tip of corn with one hand and squeeze.  
Once cooked, remove pork to a cutting board, if you have extra time, let it rest about 2–3 min before slicing (this keeps it juicy). Whisk together remaining 1 tbsp sauce mix, juice from half lime, yogurt, and milk. Place corn on a serving platter. Drizzle with reserved sauce and top with cheese.  
Nutritional Information
Per serving: Calories 360, Fat 18 g (Saturated 5 g, Trans 0 g), Cholesterol 95 mg, Sodium 280 mg, Carbohydrate 18 g (Fibre 2 g, Sugars 4 g), Protein 31 g.
Tips
Cooking time may vary depending on grill and thickness of pork. To test pork for doneness, insert an instant read thermometer into the thickest part of the meat. It should register at 160° F.