Greatest Picnic Bacon Truffle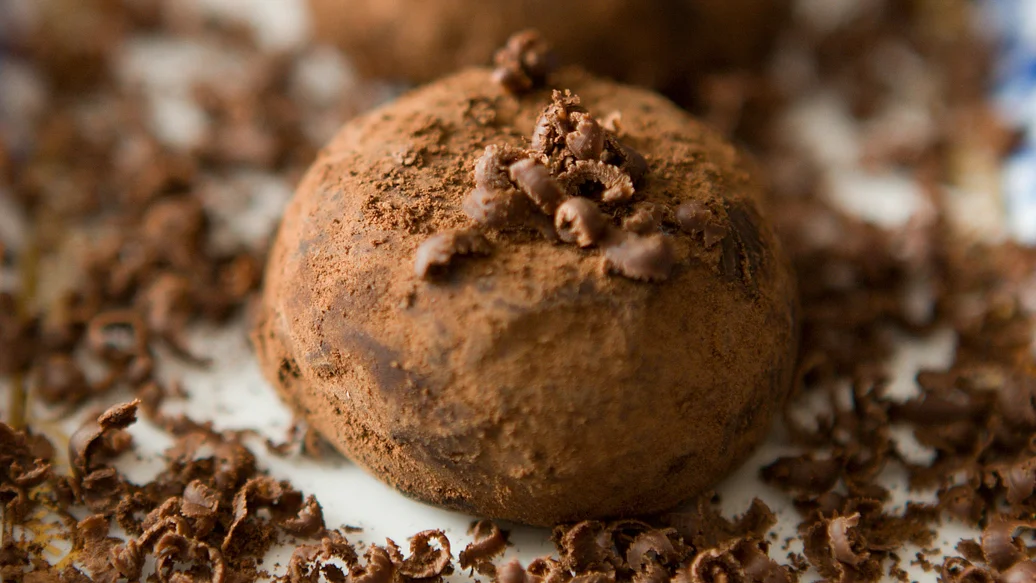 30 min
24 servings
$1.47/serving
Steps 1–4 make a batter called ganache – the base for all French truffle recipes!
Ingredients
22 oz (624 g) dark chocolate
1 cup whipping cream
1 1⁄2 cups cocoa
3 tbsp unsalted butter, optional
Maple Bacon Sea Salt, to taste
Preparation
Break 14 oz (397 g) chocolate into small pieces and put in a large bowl.
Bring cream slowly to a light boil.
Pour cream over chocolate and keep stirring until all the chocolate has melted. Add cocoa and mix until the batter is homogenous.
Add butter now, if you wish, before the batter cools and thickens. You want the ganache to be just thick enough to easily form the truffle balls.
To form truffles: using two spoons (or a baking sac), form even, round balls. Place on a parchment- or wax paper-lined Sheet Pan.
Melt the rest of the chocolate in a bain-marie (double-boiler).
Dip each ball in the melted chocolate, then roll in cocoa and top with Maple Bacon Sea Salt.
Nutritional Information
Per serving: Calories 120, Fat 16 g (Saturated 9 g, Trans 0 g), Cholesterol 15 mg, Sodium 25 mg, Carbohydrate 19 g (Fibre 4 g, Sugars 12 g), Protein 4 g.
Tips
Chef Tip: When the ganache is warm, it is very creamy. You can thicken it either by whisking it (the oxygen causes it to thicken) or by putting it in the refrigerator.