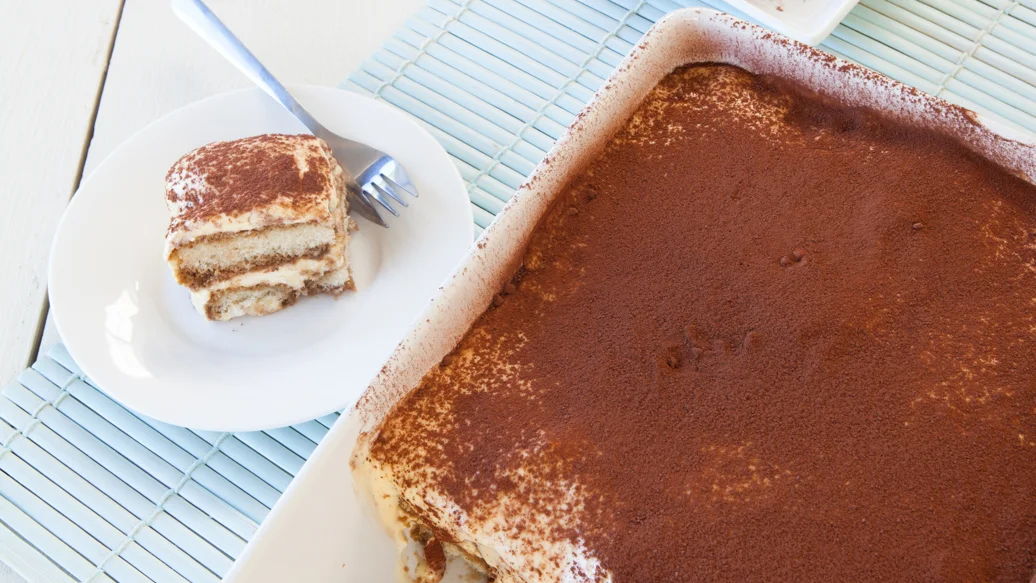 20 min
10 - 12 servings
$1.27/serving
Ingredients
6 large egg yolks
1⁄4 cup sugar
1 pkg (16 oz/ 475 g) mascarpone cheese, divided
2 cups strong coffee, cooled and divided
3 tbsp orange or coffee flavoured liqueur
1 tsp vanilla extract
24 - 30 store-bought lady fingers
1 cup cocoa
Preparation
In a large bowl, using an electric mixer, beat egg yolks with sugar until very thick and pale in colour, about 5 minutes. Add 1⁄4 mascarpone cheese and 1 tbsp cooled coffee, then beat until smooth. Beat in remaining cheese just until mixed. Mixture should still be fluffy.
In a large pie plate, stir remaining coffee with liqueur and vanilla extract. Working with one lady finger at a time, dip both sides in coffee mixture (don't let it soak too long or it will fall apart), then place on bottom of a 9" x 13" baking dish. Break cookies, if necessary, to fit and form a single layer.
Spread 1⁄2 mascarpone mixture overtop, then arrange another layer of soaked ladyfingers on top. Cover with remaining mascarpone mixture.
Cover dish with a layer of plastic wrap and refrigerate to let flavours blend at least 2 hours or overnight. Before serving, garnish with sifted cocoa.
Nutritional Information
Per serving: Calories 310, Fat 23 g (Saturated 12 g, Trans 0 g), Cholesterol 230 mg, Sodium 65 mg, Carbohydrate 20 g (Fibre 2 g, Sugars 10 g), Protein 8 g.
Tips
Use a French Press to make coffee. Use full-flavoured beans and add extra coffee grounds to make the coffee strong and gutsy.