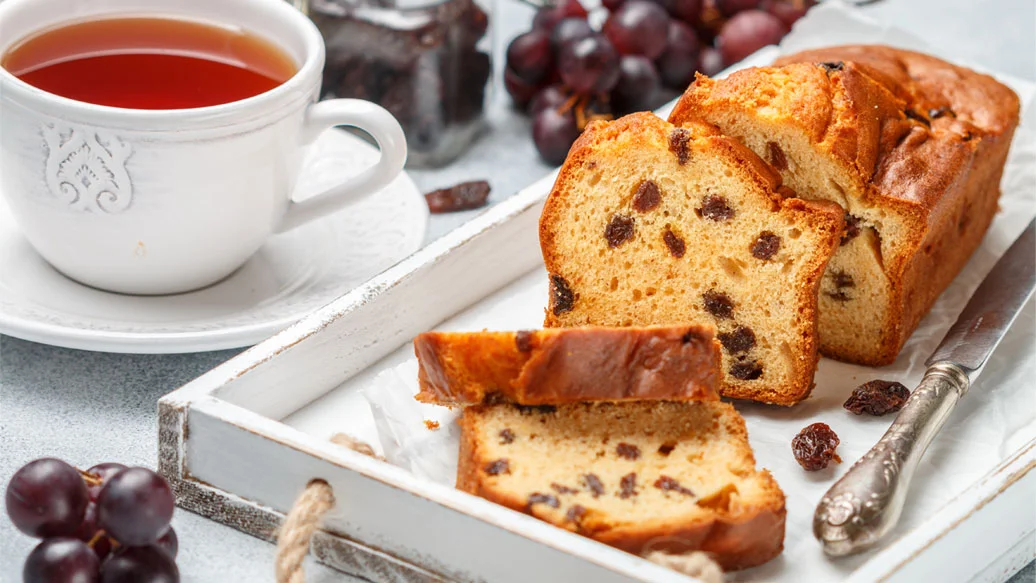 1 hr 20 min
1 loaf (12 slices)
$0.41/serving
A time-saving addition to your Christmas morning tradition.
Ingredients
1 cup raisins
2 cups Christmas Black Tea, brewed and cooled
1 tsp vanilla extract
2 1⁄2 cups flour
1 cup sugar
2 1⁄2 tsp baking powder
1 tsp Sea Salt
1⁄2 cup butter
Preparation
Soak raisins in Christmas Tea. Add vanilla extract and soak for for 30 min.
Preheat oven to 350° F.
Sift together flour, sugar, baking powder, Salt and Cinnamon.
Cut butter into flour mixture until it resembles coarse crumbs. Add raisin and Christmas Tea mixture. Mix until just blended.
Pour into a lightly oiled Rectangular Steamer. Bake for 40-50 min, until a skewer inserted into center comes out clean.
Place steamer on a cooling rack for 5 min. Remove loaf from steamer and cool completely.
Nutritional Information
Per serving (1 slice): Calories 270, Fat 8 g (Saturated 5 g, Trans 0.2 g), Cholesterol 20 mg, Sodium 250 mg, Carbohydrate 47 g (Fibre 1 g, Sugars 24 g), Protein 3 g.
Tips
Make ahead and freeze: Take out the night before to defrost and serve the next morning.