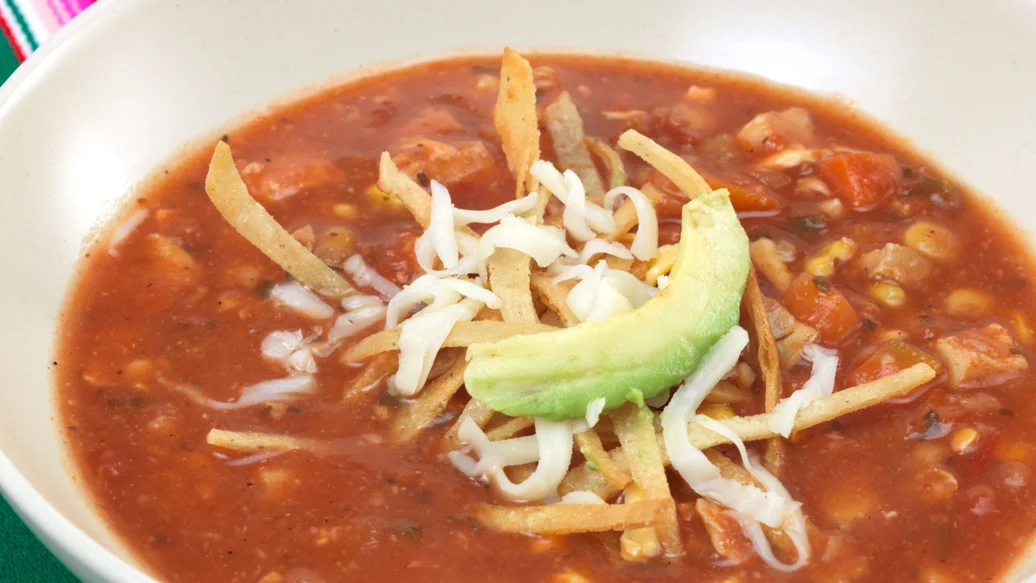 50 min
6 servings
$2.75/serving
Ingredients
6 tbsp cooking oil
8 tortillas (6"), halved and cut crosswise into 1/4" strips
1 small onion, diced
4 garlic cloves, crushed
1⁄4 tsp crushed chilies
3 cups crushed tomatoes with juice
2 bay leaves
Sea Salt, to taste
1⁄4 cup chopped fresh cilantro leaves
2 cups cooked chicken meat, diced or shredded
4 oz (114 g) low-fat cheddar cheese, grated
1⁄3 cup light sour cream, for garnish
1 lime, cut into wedges, for garnish
Preparation
Heat oil in a Multipurpose Pot over moderately high heat. Add half of the tortilla strips and cook, stirring, approximately 1 minute, or until golden. Repeat with second batch of tortilla strips. Drain on paper towels, salt lightly and set aside.
Reduce heat to medium. Add onion, garlic and Seasonings. Cook, stirring, for 5 minutes.
Add Nourish Broth, tomatoes, bay leaves, Salt, cilantro and 1⁄3 cooked tortilla strips. Bring to a simmer and cook, uncovered, for 30 minutes. Remove bay leaves.
Purée soup in batches in a blender, returning to the pot. Add chicken or turkey and bring soup back to a simmer.
Ladle into bowls, top with remaining cooked tortilla strips, cheddar, a dollop of sour cream and a sprig of cilantro. Serve with lime wedges on the side.
Nutritional Information
Per serving: Calories 390, Fat 20 g (Saturated 4 g, Trans 0 g), Cholesterol 50 mg, Sodium 720 mg, Carbohydrate 27 g (Fibre 5 g, Sugars 6 g), Protein 24 g.