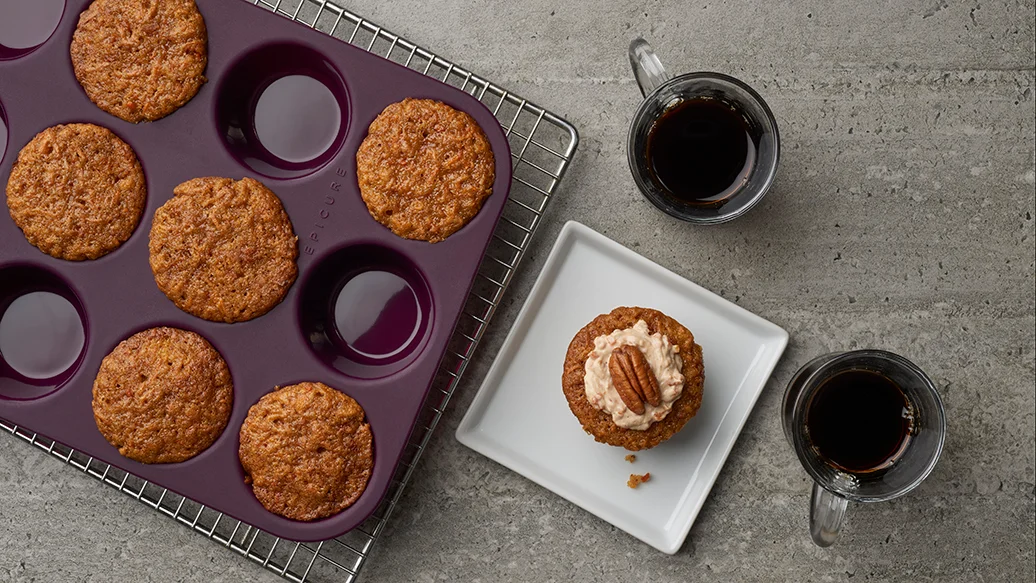 35 min
12 mini cakes
$0.75/serving
Ingredients
1 cup flour
3⁄4 cup sugar
1⁄4 cup Summer Berry Sweet Dip Mix
1 tsp baking soda
1 tsp baking powder
1 1⁄2 cups grated raw carrots
2 eggs
1⁄2 cup vegetable oil
Nuts, roasted, to taste
Preparation
Preheat oven to 350° F (175° C). Place a lightly oiled Perfect Portion Muffin Pan on Sheet Pan.
In a medium bowl, combine the first five ingredients.
In another bowl, whisk together the carrots, eggs, and oil.
Fold dry ingredients into wet ingredients until combined.
Divide batter evenly and bake until a toothpick inserted in centre comes out clean, about 12–15 minutes.
Cool in pans 10 minutes, then remove to wire racks. Cool completely.
Cut cupcakes horizontally in half.
Spread each bottom half with 2 tsp of prepared dip, add a top half to each, and divide the rest of the dip on the tops. Sprinkle with nuts.
Nutritional Information
Per serving: Calories 190, Fat 11 g (Saturated 1 g, Trans 0 g), Cholesterol 35 mg, Sodium 170 mg, Carbohydrate 21 g (Fibre 2 g, Sugars 12 g), Protein 5 g.
Tips
Prepare in advance to elevate the flavour! Refrigerate and eat cold.