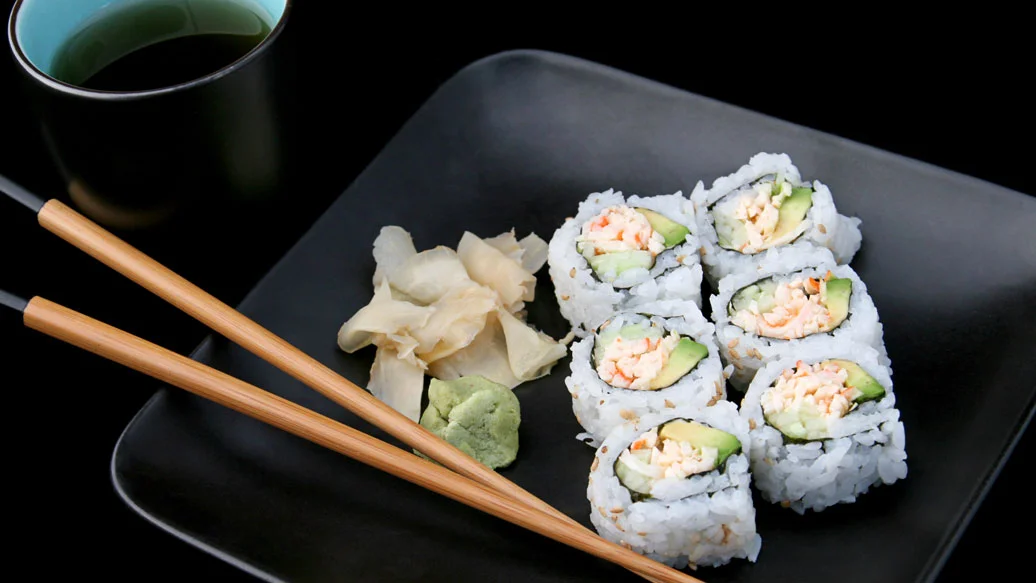 10 min
36 pieces
$0.60/serving
Ingredients
6 sheets Nori (seaweed sheets)
5 cups cooked sushi rice
1 cup Wasabi Ginger Aioli, prepared
1 can (8 oz/225g) cooked crab meat or 6 sticks of crab-flavoured fish
1 medium English cucumber, peeled and cut into 3" matchsticks
1 firm, ripe avocado, peeled, pitted and cut into 3/8" wedges
Preparation
Place Nori sheet on bamboo roller. Spread 3⁄4 cup sushi rice evenly over Nori. Press into place with clean moist fingers, leaving 1⁄2" uncovered along one long side.
Spread some Wasabi Ginger Aioli along centre of rice with a chopstick or wooden spoon. 
Place crab along centre of rice. Place cucumber on one side of crab and avocado on other. Fold Nori over ingredients with bamboo mat and lightly press into place.
Continue to roll sushi with bamboo mat away from you.
Form roll in mat by squeezing it gently. Remove sushi from mat, cut in half and cut each half into thirds. Garnish with sesame seeds and serve with pickled ginger, soy sauce and wasabi.
Nutritional Information
Per serving: Calories 70, Fat 2 g (Saturated 0.3 g, Trans 0 g), Cholesterol 5 mg, Sodium 100 mg, Carbohydrate 10 g (Fibre 1 g, Sugars 1 g), Protein 2 g.