Buffalo Roasted Cauliflower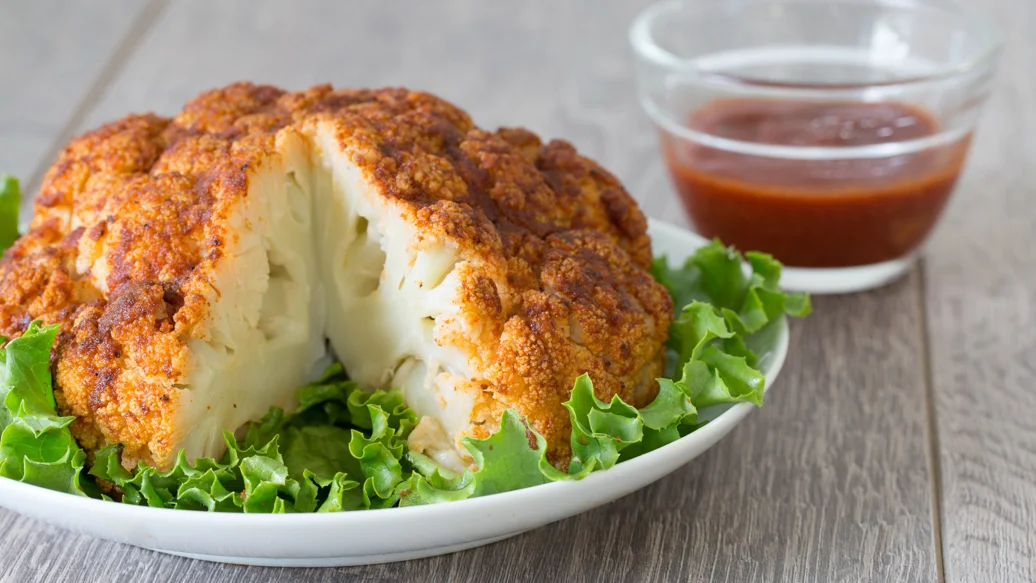 35 min
6 servings
$1.65/serving
A great way to prove that you can "Buffalo" a whole lot more than just chicken wings. 
Ingredients
3 1⁄4 tbsp Buffalo Wings Seasoning, divided
1⁄4 cup vinegar
2 tbsp brown sugar
1 tbsp ketchup
1 large whole cauliflower
1 tbsp oil
1 tbsp water
Preparation
Preheat the oven to 425° F (220° F).
Whisk 1 tbsp seasoning mix with vinegar, brown sugar, and ketchup. Set aside.
Trim leaves and core from cauliflower.
Place cauliflower on a plate, cover with wet paper towels, and microwave on high for 8–10 minutes.
Remove paper towel and place cauliflower on a Sheet Pan lined with a Sheet Pan Liner.
Combine remaining seasoning mix with oil and water, and brush liberally over cauliflower.
Roast in oven for 15 minutes, until it starts to brown.
Brush with prepared Buffalo Wings Sauce or serve sauce on the side.
Nutritional Information
Per serving: Calories 80, Fat 3 g (Saturated 0 g, Trans 0 g), Cholesterol 0 mg, Sodium 430 mg, Carbohydrate 14 g (Fibre 3 g, Sugars 8 g), Protein 2 g.
Tips
Cut the cauliflower into florets if you'd like to make this speedier.
Serve with cooling celery sticks and your favourite Epicure dip.