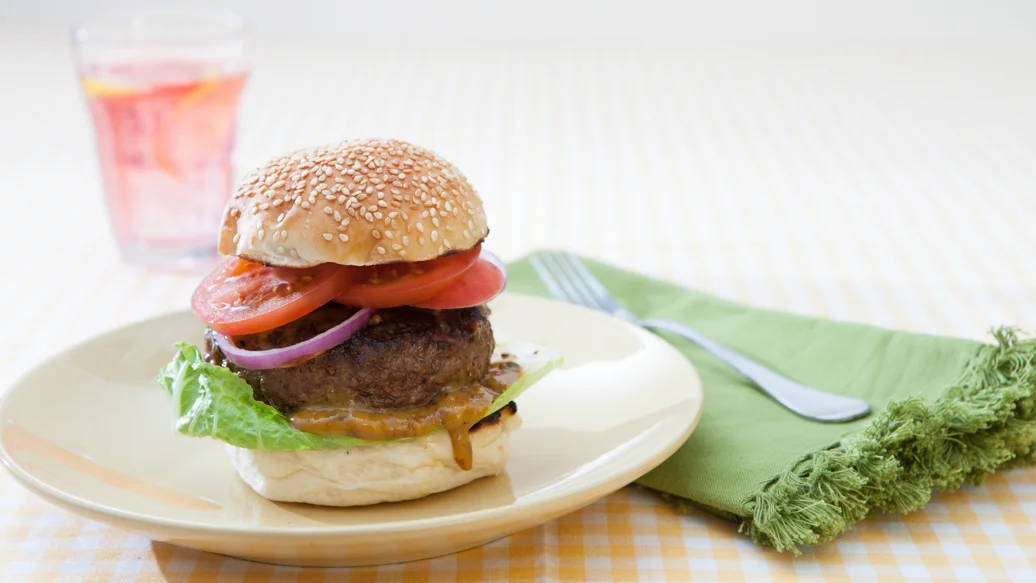 15 min
12 - 14 patties
$1.40/serving
We love the full flavour of these burgers made with our Burger Seasoning and a hit of our Honey Mustard, too.
Perfectly Balance Your Plate
Serve on a burger bun with your choice of burger toppings and with 1 cup sliced veggies. 
Ingredients
3 1⁄2 lbs (1 1⁄2 kg) lean ground beef
1 cup Honey Mustard or Dijon-style mustard
1 cup ketchup
Preparation
Crumble beef into a large bowl.
Add Burger Seasoning, Honey Mustard, and ketchup.
Using your hands, gently mix to combine evenly.
Divide mixture into 12–14 portions and form each into a ball. Flatten to form patties.
Individually wrap burgers, or portion into family-sized packs. Be sure to separate each burger with a piece of parchment or waxed paper. Snugly wrap with plastic, then place in freezer bags. Freeze up to 2 months.
Nutritional Information
Per serving: Calories 270, Fat 13 g (Saturated 5 g, Trans 0 g), Cholesterol 65 mg, Sodium 460 mg, Carbohydrate 11 g (Fibre 2 g, Sugars 7 g), Protein 26 g.