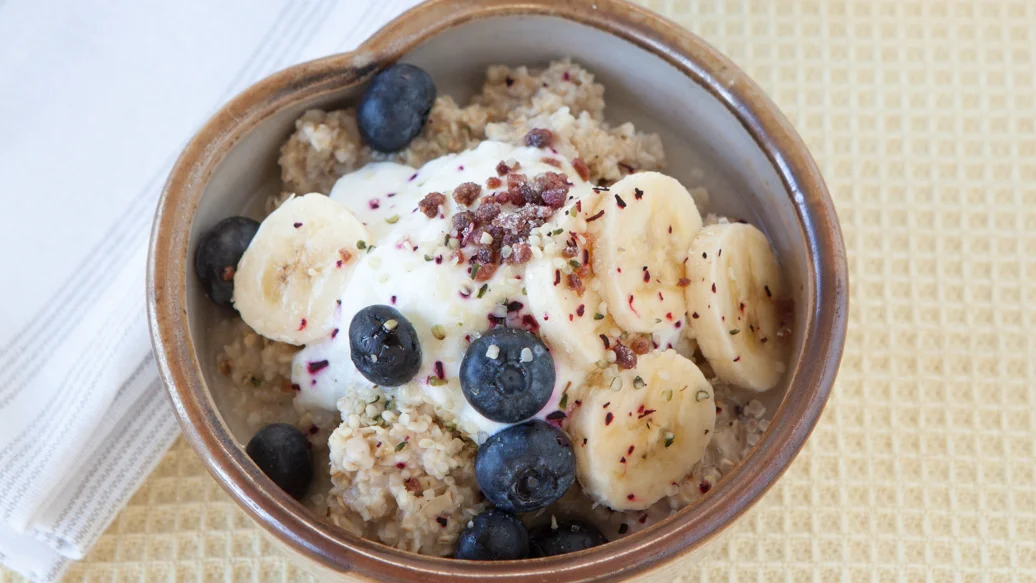 3 - 4 min
1 - 2 servings
$2.00/serving
Ramp it up with bananas, blueberries, and low-fat plain yogurt. Add a teaspoon of shelled hemp seeds or chopped walnuts for extra brain fuel.
Ingredients
2⁄3 cup boiling water
1⁄3 cup quick cooking oats
1⁄4 cup low-fat plain yogurt
1 small banana, sliced
1⁄4 cup blueberries
1 tsp hemp seeds or chopped walnuts, optional
Preparation
Combine boiling water and oats. Stir, then let sit, uncovered, for 1–2 minutes.
Top with yogurt, banana, and blueberries. Finish with Summer Berry Sweet Dip Mix and hemp seeds or walnuts, if you wish. This will get you through even the most challenging morning!
Nutritional Information
Per serving: Calories 230, Fat 4 g (Saturated 0.5 g, Trans 0 g), Cholesterol 0 mg, Sodium 100 mg, Carbohydrate 42 g (Fibre 5 g, Sugars 16 g), Protein 10 g.