Berry Brainy Banana Bread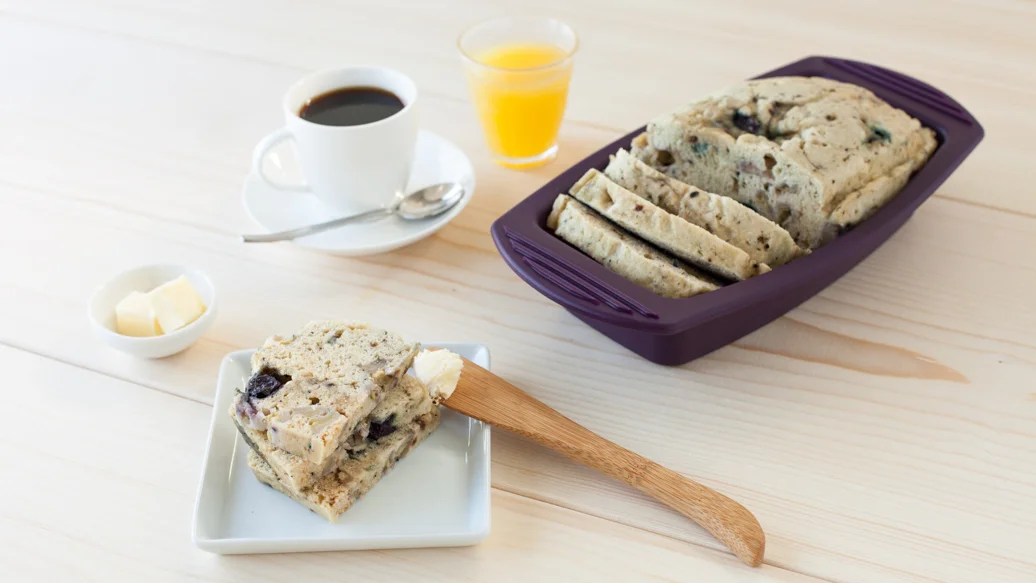 12 min
10 servings
$0.54/serving
The perfect quick breakfast or snack: full of potassium, antioxidants, and nutrition, which translate into brain power and energy. Make ahead of time and snack on it over a few days.
Ingredients
1 1⁄2 cups all-purpose flour
1⁄4 cup lightly packed brown sugar
1 tsp baking soda
1⁄2 tsp Sea Salt
1 tsp cocoa powder, optional
2 eggs
1⁄3 cup milk
1⁄4 cup oil
2 medium bananas, mashed or sliced
1⁄4 cup blueberries
1⁄2 cup nuts, your choice, optional
Preparation
In a bowl, stir flour with sugar, Summer Berry Sweet Dip Mix, baking soda, salt, and cocoa powder, if you wish.
In another bowl, whisk eggs, then whisk in milk and oil.
Pour egg mixture over flour mixture and stir to mix. Fold in bananas, blueberries, and nuts, if you wish. Pour into Rectangular Steamer and smooth out evenly.
Cover with lid and microwave on high for 7 minutes, or until fully cooked in the center. Let stand 5 minutes before turning out.
Nutritional Information
Per serving: Calories 220, Fat 11 g (Saturated 1.5 g, Trans 0 g), Cholesterol 40 mg, Sodium 270 mg, Carbohydrate 28 g (Fibre 1 g, Sugars 10 g), Protein 5 g.