Beautifully Chill Berry G&T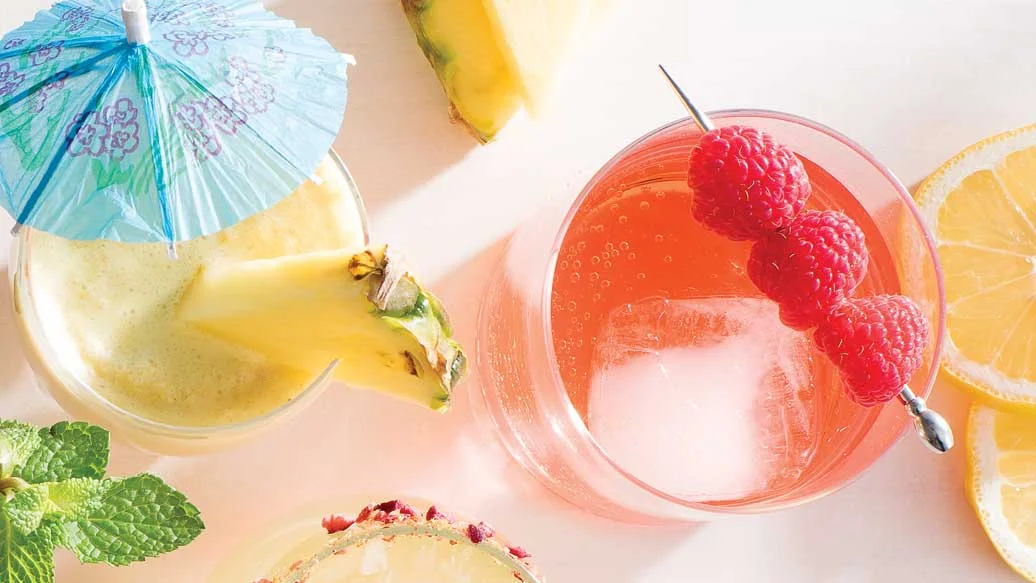 40 min
1 serving
$1.91/serving
Ingredients
Berry Simple Syrup:
2 cups frozen or fresh berries
1⁄3 cup granulated sugar
1 cup Sleeping Beauty Herbal Tea Blend, steeped
G&T Cocktail:
1 tbsp Berry Simple Syrup
1⁄4 cup or 2 oz. gin
tonic water, to taste
extra berries, for garnish (optional)
Preparation
For syrup: in small saucepan, combine berries, sugar, tea, and lemon. Bring to a boil, stirring often; reduce heat and simmer until berries break apart, about 5 min. Press through a fine mesh sieve; discard solids. Cool syrup before using, about 30 minutes. (Make ahead: refrigerate up to 1 week.)
For each cocktail, fill glass with ice cubes. Mix together 1 tbsp Berry Simple Syrup with gin; pour over ice and top with tonic. Garnish with berry skewers, if desired.
Nutritional Information
Per serving: Calories 160, Fat 0 g (Saturated 0 g, Trans 0 g), Cholesterol 0 mg, Sodium 10 mg, Carbohydrate 8 g (Fibre 1 g, Sugars 7 g), Protein 0 g.
Tips
Make mixed berry fruit cubes using the Iceberg Mold. Make it a mocktail and replace gin with more chilled tea; swap tonic for soda water.